hasmanufactured and supplied high quality lightweight aluminum flywheels to theperformance industry for over 25 years. JB is the original designer andmanufacturer of the BMW E36 aluminum flywheel. JB Racing is constantly expandingtheir flywheel line to include the latest performance applications such as; MiniCooper and BMW E46 325/330, and Z4 utilizing the new 6-speed (SMG) transmission. ALL of the current dual-mass replacement flywheels are designed to accommodatemost of the common sprung-hub clutch discs to minimize the gearbox "rattle."Sachs, S.P.E.C., Clutch Net, and others manufacture sprung-hub discs that willclear in the center hub cavity of these flywheels.
All of their flywheels are designed, manufactured, and assembled in-house attheir  Florida facility which allows to maintain stringent quality control.You simply cannot buy a higher quality lightweight aluminum BMW flywheel… atany price!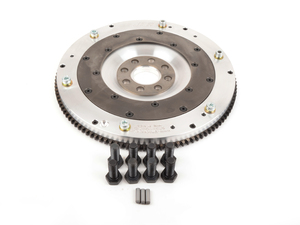 Aluminum flywheels are much lighter than the stock steel ...

Aluminum flywheels are much lighter than the stock steel flywheel and that produces better throttle response and more available horsepower to the wheels for faster acceleration. The JB Racing aluminum flywheels are a direct replacement for the stock flywheel and work with stock clutch components for an easy upgrade with very little downside.

Modern flywheels are built with additional components and features that are designed to dampen and minimize vibrations from the engine and transmission. As a result they have become bloated in weight and that means more energy is used up just making the flywheel spin. The weight difference between an aluminum and steel flywheel is huge - sometimes more than 50% less. Without the additional mass, more energy can be diverted to where it counts most - moving the car. The flywheel and clutch is one of the first areas that engine builders address when making the rotating assembly lighter for race engines. The dampening effect is just not needed on cars that are focused on performance.

In addition to releasing more power to the wheels, the lighter flywheel allows the engine to spin more freely, which improves throttle response. Again, the difference is huge as you watch the revs build faster than before. With the engine spinning easier the power band comes up much sooner. The stock steel flywheel feels lazy in comparison. There is a driving adjustment required to get used to how much faster the engine revs but that's not really a downside.

The JB lightweight flywheel is designed to be used with a factory organic clutch - the same clutch kit that you would get from any BMW dealer. This makes replacement clutch components easy to source and inexpensive when compared to specialized racing clutches. By using the factory BMW clutch, JB has also made the whole assembly easy to live with when used on the street. The clutch behaves the same as it originally did - just with better throttle response and more power! The JB flywheel can be rebuilt too with a new clutch contact surface.

Aluminum flywheels are considered 'single-mass' flywheels because they do not have the same dampening designs as an original 'dual-mass' flywheel. With a single-mass design more noise and vibration may be noticeable. There are steps you can take to minimize the noise - heavier weight transmission oil and clutch discs with anti-rattle springs (sprung-hub clutch).

Stock Flywheel Weight = 16.5lbs
JB Flywheel Weight = 8lbs

This item fits the following BMWs:
1974-1976 2002 BMW 2002 2002tii
1977-1983 E21 BMW 320i
1984-1985 E30 BMW 318i

Aluminum flywheels are much lighter than the stock steel ...

Aluminum flywheels are much lighter than the stock steel flywheel and that produces better throttle response and more available horsepower to the wheels for faster acceleration. The JB Racing aluminum flywheels are a direct replacement for the stock flywheel and work with stock clutch components for an easy upgrade with very little downside.

Modern flywheels are built with additional components and features that are designed to dampen and minimize vibrations from the engine and transmission. As a result they have become bloated in weight and that means more energy is used up just making the flywheel spin. The weight difference between an aluminum and steel flywheel is huge - sometimes more than 50% less. Without the additional mass, more energy can be diverted to where it counts most - moving the car. The flywheel and clutch is one of the first areas that engine builders address when making the rotating assembly lighter for race engines. The dampening effect is just not needed on cars that are focused on performance.

In addition to releasing more power to the wheels, the lighter flywheel allows the engine to spin more freely, which improves throttle response. Again, the difference is huge as you watch the revs build faster than before. With the engine spinning easier the power band comes up much sooner. The stock steel flywheel feels lazy in comparison. There is a driving adjustment required to get used to how much faster the engine revs but that's not really a downside.

The JB lightweight flywheel is designed to be used with a factory organic clutch - the same clutch kit that you would get from any BMW dealer. This makes replacement clutch components easy to source and inexpensive when compared to specialized racing clutches. By using the factory BMW clutch, JB has also made the whole assembly easy to live with when used on the street. The clutch behaves the same as it originally did - just with better throttle response and more power! The JB flywheel can be rebuilt too with a new clutch contact surface.

Aluminum flywheels are considered 'single-mass' flywheels because they do not have the same dampening designs as an original 'dual-mass' flywheel. With a single-mass design more noise and vibration may be noticeable. There are steps you can take to minimize the noise - heavier weight transmission oil and clutch discs with anti-rattle springs (sprung-hub clutch).

Stock Flywheel Weight = 16.5
JB Flywheel Weight = 8lbs

This item fits the following BMWs:
1968-1973 2002 BMW 2002 2002tii