BMW E10 Cylinder Head Parts & Head Bolts

Cylinder head parts include all of the pieces of the valvetrain, lifters, rocker arms, head studs, and head bolts. We sell the original BMW or OEM head parts as well as performance upgrades such as titanium valve retainers, upgraded springs, and head studs. We also sell valve shim kits which are perfect for DIY E30 M3 S14 and E46 M3 S54 valve adjustments.

For accurate results, specify your model below.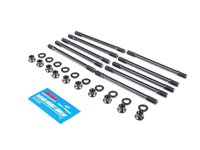 Virtually every top professional BMW engine builder relies on ARP Pro Series head studs. ARP uses a premium grade 8740 alloy that is rated far superior to "aircraft" quality. Each stud is heat-treated to 200,000 psi, ensuring complete heat penetration. ARP studs are threaded after heat-treat, which gives them 1000% (that's ten times!) better fatigue strength than studs threaded prior to heat-treat. Threading the studs after heat-treating is more difficult and costly (as it's harder on tooling) but the results are well worth the effort. These simply are the best head studs we've found and we highly recommend them in both racing and forced induction applications. Due to the additional clamping force between the head and block, these are IDEAL for turbocharged engines.
Converting from the factory BMW head bolts to head studs makes it much easier to assemble an engine, especially a racing powerplant which must be serviced frequently (and quickly!), and also ensures proper alignment of the head and gasket. Head studs also provide more accurate and consistent torque loading. Here's why: When you use bolts to secure the head, the fastener is actually being "twisted" while it's being torqued to the proper reading. Accordingly, the bolt is reacting to two different forces simultaneously. A head stud should be installed in a "relaxed" mode -- never crank it in tightly using a jammed nut. If everything is right, the stud should be installed finger tight. Then, when applying torque to the nut, the stud will stretch only on the vertical axis. An information sheet is provided with each set.
This item fits the following BMWs:
1970-1976
2002 BMW
1600 2002 2002tii
1977-1983
E21 BMW
320i
1984-1985
E30 BMW
318i

Part #: 201-4601
Ships in 6 days

Free Shipping
on orders $199 and up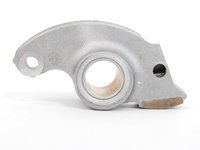 Replace your worn rocker arm with this unit. The rocker arms make contact with the camshaft and control the movement of the valves. Any time a camshaft is replace it is always a good idea to replace the rocker arms with new units. It is also a good idea to replace the rocker shafts that the arms mount on.
Since the late 1800's Febi has been fabricating replacement metal parts. This history is self evident in the quality and vast amount of applications they service. With more than 34,000 repair solutions for cars and commercial vehicles you can be sure Febi has you covered.
This item fits the following BMWs:
1970-1976
2002 BMW
1600 2002 2002tii
1984-1985
E30 BMW
318i
1976-1981
E12 BMW
528i 530i
1982-1988
E28 BMW
533i 535i 535is
1989-1993
E34 BMW
535i
1982-1989
E24 BMW
633csi 635csi
1981-1987
E23 BMW
733i 735i
1988-1992
E32 BMW
735i 735il

Part #: 11331271833
Ships Today

Free Shipping
on orders $199 and up

These head bolt sets for 4 cylinder M10 engines includes 10 bolts, the set for 6 cylinder M30 engines includes 14 bolts.
If you drive a European vehicle, chances are high your vehicle came equipped with one or more Victor Reinz gaskets. Choose OE quality VR gaskets and seals and do the job right the first time.
This item fits the following BMWs:
1970-1976
2002 BMW
1600 2002 2002tii
1977-1983
E21 BMW
320i
1984-1991
E30 BMW
318i
1976-1981
E12 BMW
528i 530i
1982-1988
E28 BMW
533i 535i 535is
1989-1995
E34 BMW
535i
1982-1989
E24 BMW
633csi 635csi
1981-1987
E23 BMW
733i 735i

Part #: 11120621144
Ships in 1 day

Free Shipping
on orders $199 and up