BMW E12 528i Alternator & Alternator Parts

Bosch Alternators are built especially for extremes of heat, cold and high demand. Your BMW deserves nothing less than the best, which is why BMW has used Bosch as an Original Equipment Alternator manufacturer for decades. Bosch alternators are built to last using the highest quality materials and the most technologically advanced processes. All alternator parts are 100% factory tested prior to and during remanufacturing to assure that they meet or exceed original equipment specifications. And every Bosch alternator is fully load tested to guarantee compliance with Bosch's strict performance specifications. Buy the best alternator for your BMW: Buy a Bosch Alternator!

For accurate results, specify your model below.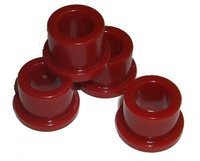 Trouble trying to get your alternator tensioned or aligned properly? This is a common issue due to the rubber bushings wearing with age or degrading from exposure to the elements, oil, or other contaminants.

Restore proper alignment and tensioning function to your alternator with these Heavy Duty Alternator Polyurethane Bushings.

These will resist pressure and any possible contaminants for much longer than stock rubber bushings, making these a likely one time solution to your alternator issues!
Replaces BMW part # 12311268433. Most cars require four.

This item fits the following BMWs:
1977-1983 E21 BMW 320i
1984-1988 E30 BMW 318i 325e 325es
1988-1991 E30 BMW M3
1976-1981 E12 BMW 528i 530i
1982-1988 E28 BMW 528e 533i 535i M5
1982-1989 E24 BMW 633csi 635csi M6
1981-1987 E23 BMW 733i 735i

Part #: tms3458KT
Direct Ship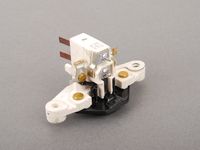 This is the voltage regulator found on the back of the alternator. It's a normal wear item and the contacts are the first thing to check if you believe the alternator is not charging the battery (lights flickering or dim, battery light on in the dash, the engine quits without warning, or other electrical failures). The voltage regulator manages the voltage flowing through the car, especially to and from the battery. There are two carbon contacts on the regulator that control the magnetic field when the alternator is spinning and these contacts wear over time. A new set of contacts will be about 13mm in length. Anything less than 5mm and the voltage regulator should be replaced, regardless if that is the cause of your electrical problems or not. Most older mechanics will tell you to keep a spare regulator in your toolbox.
The carbon contacts can be replaced on their own but requires desoldering the old ones from the base and then soldering the new ones on. It may be easier to just replace the unit as a whole.
This is the OEM voltage regulator, made by Bosch or Hella. It's the one with the white base and fits most Bosch alternators from 1977-1995 (Valeo and other alternators look very different and have a black cover and base). This part number replaces the previous BMW part numbers - 12311271664, 12321279548, 12311722755, 12321711399 and Bosch part numbers 1197311021 and 1197311028.

Part #: 12311726022
Ships in 2 Days

Free Shipping
on orders $199 and up