BMW E21 Brake Master Cylinders
The brake master cylinder is responsible for distributing fluid from the reservoir to the front and rear brake systems. The fluid reservoir actually sits on top of the master cylinder with hard metal brake lines running out of it. There are a few places where the master cylinder can leak and cause a spongy or soft brake pedal. The inside has several pistons with o-rings and seals that can fail and allow brake fluid to escape. Likewise, the external metal lines also have o-rings where fluid can seep out or let air/moisture in.

For accurate results, specify your model below.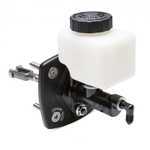 Gain more constant braking feel and modulation by eliminating your brake booster. With this kit your brakes will function like factory below threshold braking, but above threshold braking, while requiring more effort, this give you better modulation of the brakes giving you total control and the right amount of braking for what you need.
*Please note this kit will not work with factory lines and requires one of brake line relocation kits also*

Part #: CB-EURO-BBE
Direct Ship