BMW E24 Engine Fans & Fan Clutches

BMW cooling fans are one of two types - engine mounted mechanical and full electric (not driven by the engine). As the fan spins it draws air from the front of the car, pulls it through the radiator (where the air cools the water vanes in the radiator), and then directs the airflow over and around the engine. The faster you drive the car, the faster air is being drawn through the radiator. But at idle or in traffic, and especially warm days, the lack of airflow could lead to overheating if your fan is malfunctioning. The fan should always be spinning fast. A fan that barely spins at all is a sign of a failed fan clutch and should be replaced right away. The clutch is mounted in the fan and can be replaced on its own. The actual fan rarely goes bad unless one of the blades is damaged. Electric fans require a complete replacement if it's not working (the motor cannot be replaced separately).

For accurate results, specify your model below.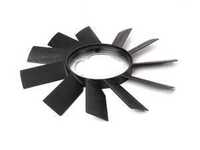 This fan is driven by the belt, engaged by the fan clutch. If you have bad motor mounts, it's quite common for the blades of this fan to make contact with the radiator or radiator shroud, essentially self-destructing the fan into many peices. Be sure to get a new fan clutch, while you are replacing this.
This item fits the following BMWs:
1988-1991
E30 BMW
325e 325es 325i 325ic 325is 325ix
1992-1998
E36 BMW
318i 318is 318ti 318ic
1988
E28 BMW
528e 535i 535is M5
1989-1990
E34 BMW
525i
1988-1989
E24 BMW
635csi M6
1997-1998
Z3 BMW
Z3 1.9

Part #: 11521723363
Ships in 4 days

Free Shipping
on orders $199 and up