BMW E24 OEM Clutch Kits & Clutch Parts

Clutch kits from Original Equipment Manufacturers such as Sachs and LUK. Kits include clutch disc, pressure plate, throw-out bearing and clutch alignment tool (when available). Clutch replacement should be carried out by qualified shops as special BMW tools may be required. Call for applications not listed. Sachs and LUK are official suppliers to BMW.

For accurate results, specify your model below.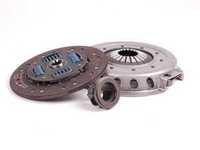 This is the direct replacement clutch kit for the E28 M5, E34 M5, E24 M6, and the Euro M635CSi. This Sachs OEM kit comes complete with clutch disc, pressure plate, and throw-out bearing. The clutch on the E34 M5 is designed to take a lot of abuse but be user-friendly at the same time. However, this means that it can wear "qucikly" when the car is driven hard. When treated with consideration there's no reason why the stock OEM clutch can't last 100+k miles. This is the best choice when you want to maintain a reliable and efficient clutch system without the need for a different flywheel, additional parts, or awkward clutch engagement.
This item fits the following BMWs:
1985-1988
E28 BMW
M5
1989-1995
E34 BMW
M5 3.6 (US or Euro)
1985-1988
E24 BMW
M6 M635CSi (Euro)

Part #: 21212226428
In Stock
Free Shipping