BMW E24 Aero & Body Kits

Body kits include front, side, rear, and other components to completely alter or update the appearance of your BMW. These may not be wild and attention-getting add-ons. We offer many pieces that replicate factory bodywork from M3, M5, M Sport and other BMW factory aero kits. Updating the trim and appearance is a great way to add value and refresh your car's ordinary looks.

For accurate results, specify your model below.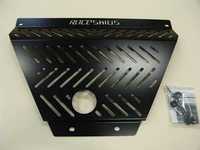 BMWs, just like many other makes, only include plastic under-body shields and are often vulnerable on the underside of the engine bay to debris in the road, track, and off road rally courses. When the vehicles are lowered, they also become vulnerable to damage when bottoming out on high spots in the road, drive ways, and other business entrances. This can pose a serious problem if the oil pan and other sensitive components are damaged when this happens. Cracks in the oil pan could result in a destroyed motor if the oil is allowed to completely leak out and any number of bushings, steering components, or exposed fluid lines could easily be ripped out of place, compromising the safety and control of the vehicle.
To prevent this, Race Skids provides a range of Heavy Duty Skid Plates for many classic BMW models. Constructed from heavy duty 10-gauge steel, these skid plates provide a much needed upgrade to under-body protection, helping to absorb the the impact of debris or the road itself to the bottom of the vehicle. This helps ensure that the oil pan and other components are left completely intact, keeping you on the road with no worries.
An added benefit of these Heavy Duty Skid Plates is a black powder coated surface. This protects the plate itself from oxidation and corrosion, gives the plate a smooth scratch resistant surface, and makes it much easier to clean and maintain, allowing you to simply spray or wipe away built up dirt, salt, or any other build up.
Included with the Skid Plate is all needed mounting hardware. These too are corrosion resistant to allow for easy installation and removal of the skid plate for needed maintenance to the vehicle.
Fits the following Chassis:
1982-1988 E28 BMW All Submodels
1976-1989 E24 BMW All Submodels
Want to install it yourself? Check out the Installation PDF

Part #: RSE24E28all
Direct Ship