BMW E24 Cam Sprockets & Gears

Prior to the use of the VANOS self-adjusting cam sprockets all BMWs used a fixed cam sprocket/gear and in some cases, performance versions were available to retard or advance timing depending on the need. We offer factory BMW cam gear upgrades as well as our own adjustable units for proper setup and dialing in of intake and exhaust cams.

For accurate results, specify your model below.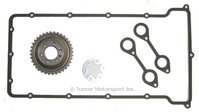 The BMW Motorsport Cam Gear retards the exhaust camshaft of the 88-91 M3 and 88-89 M5 and M6. This allows for better exhaust scavenging, which in turn gives a moderate torque increase. This is very useful in day-to-day driving. This cam gear came stock on the EVO2 M3. (+11 lb./ft torque increase at 3000 rpm on M3 and +22 lb./ft on a M5/M6). Kit includes Cam gear and valve cover gaskets.
This item fits the following BMWs:
1988-1991
E30 BMW
M3
1988
E28 BMW
M5
1987-1989
E24 BMW
M6
Packaged by Turner
Part #: 11311312535
Ships in 2 Days

Free Shipping
on orders $199 and up