BMW E24 Transmission Mounts
Transmission mounts locate the transmission to the chassis of the car. Nearly all BMW transmission mounts are made of rubber which is great for absorbing vibrations and noise but may not last very long. Oil from a failing transmission seals will also contribute to premature rubber mount wear. Worn out tranny mounts can lead to harder and imprecise shifting and maybe even a dreaded mis-shift. Rubber trans mounts are generally inexpensive so replacing them every few years will not break the bank. We also offer upgraded stiffer rubber or urethane mounts that last longer and deflect less so the transmission stays in its proper place and the shift linkage is not mis-aligned.

For accurate results, specify your model below.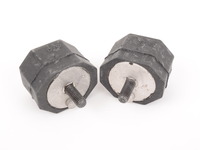 E30, E24, E28 Transmission Mount (pair) for manual transmissions. These are standard replacement mounts to replace mounts worn out or suffering transmission mount failure. There are two per car, and this listing includes two (2) transmission mounts to do the job right.
This manual transmission mount fits the follow BMW:
1986-1989
E24 6 Series
633Csi, 635Csi (Getrag 260 Manual Trans)
1986-1988
E28 5 Series
528e, 533i, 535i, 535is (Getrag 260 Manual)
1984-1992
E30 3 Series
325e, 325es, 325i, 325is, 325ic

Part #: 23711175939KT1
Direct Ship