BMW E24 Clearance Parts

For accurate results, specify your model below.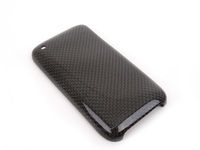 iPhone 3g 3gs cover. Precisely made with ABS molding wrapped in real carbon fiber and finished off with a gloss/ matte clear-coat.
Secure clip-on design protects back & edges while enhancing the overall appearance with real carbon fiber weave.

Full access to iPhone screen, buttons, camera, charging & syncing functions.

Gloss carbon fiber finish grips in your hand, yet slides easily into your pocket.

Made from 100% genuine carbon fiber material.

UV resistant clear-coat feature prevents discoloration of the case under sunlight.

Note: The gloss case is like a car's clear-coat, and is prone to fine scratches. Just like a car, you can help to reduce these by waxing the case.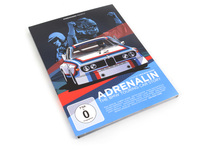 In Stock Now! Order Today!
ADRENALIN brings the exciting and successful BMW touring car story to the big screen.50 years of a spectacular sport played out at race circuits around the world.Charismatic drivers and evocative racing cars from five decades plot the growth of the sport and the technology.From the drifting touring cars of the 60's to the first victory of the BMW M4 in the highly sophisticated new DTM.The legends behind the wheel tell their exciting stories and bring the golden era of touring car racing alive again.
FEATURING:
AUGUSTO FARFUS
HUBERT HAHNE
STEVE SOPER
PAUL ROSCHE
JÖRG MÜLLER
JOCHEN NEERPASCH
DIETER QUESTER
BRUNO SPENGLER
JOEY HAND
MARC SURER
HARALD GROHS
JOACHIM WINKELHOCK
ANDY PRIAULX
JOHNNY CECOTTO
PRINZ LEOPOLD VON BAYERN
NELSON PIQUET
TIMO GLOCK
HERBERT SCHNITZER
ROBERTO RAVAGLIA
MARC HESSEL
MARCO WITTMANN
RAINER BRAUN
CHARLY LAMM
JENS MARQUARDT
HANS-JOACHIM STUCK
ALEX ZANARDI
UWE MAHLA
NIKI LAUDA
MARKUS OESTERREICH
KLAUS LUDWIG
LANGUAGES: GERMAN/ ENGLISH - SUBTITLES: GERMAN/ ENGLISH - RUNNING TIME: 123 min.
SOUND: DOLBY DIGITAL 2.0 / DOLBY DIGITAL 5.1 -
NTSC FORMAT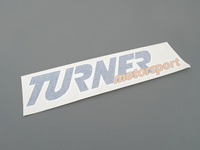 THE IDEAL TOOLBOX STICKER!
Cast some positive Turner vibes on your track build with this extra-large vinyl TURNER MOTORSPORT sticker. About as long as an arm, this is a great statement piece anywhere around the shop.
While supplies last. Limit one per customer, please!