BMW E28 Transmission Mounts
Transmission mounts locate the transmission to the chassis of the car. Nearly all BMW transmission mounts are made of rubber which is great for absorbing vibrations and noise but may not last very long. Oil from a failing transmission seals will also contribute to premature rubber mount wear. Worn out tranny mounts can lead to harder and imprecise shifting and maybe even a dreaded mis-shift. Rubber trans mounts are generally inexpensive so replacing them every few years will not break the bank. We also offer upgraded stiffer rubber or urethane mounts that last longer and deflect less so the transmission stays in its proper place and the shift linkage is not mis-aligned.

For accurate results, specify your model below.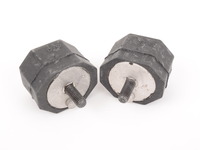 E30, E24, E28 Transmission Mount (pair) for manual transmissions. These are standard replacement mounts to replace mounts worn out or suffering transmission mount failure. There are two per car, and this listing includes two (2) transmission mounts to do the job right.
This manual transmission mount fits the follow BMW:
1986-1989
E24 6 Series
633Csi, 635Csi (Getrag 260 Manual Trans)
1986-1988
E28 5 Series
528e, 533i, 535i, 535is (Getrag 260 Manual)
1984-1992
E30 3 Series
325e, 325es, 325i, 325is, 325ic

Part #: 23711175939KT1
In Stock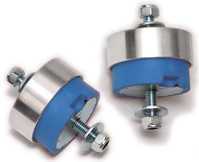 The stock manual transmission mounts are a weak point in any BMW. They are a soft rubber, mainly designed to absorb vibration. But over time the rubber becomes more and more pliable and that causes the transmission to move excessively and the shifter linkage to bind, leading to tougher and inconsistent shifting. A mis-shift can lead to a very expensive engine rebuild.
The UUC tranny mounts are much stiffer than the originals and can be used with an aluminum cup to deflect load over a greater area. This will keep the transmission and shift linkage where they're supposed to be and virtually eliminate a mis-shift caused by the linkage binding. UUC's mounts are a heavy-duty rubber or urethane. Black rubber mounts are for street applications; Red/blue urethane is for track/light street use. Since both styles are a stiffer durometer than the stock rubber, some additional vibration and noise will make it into the cabin. With the Black mounts, the vibration is really not much more than stock. There will be a noticeable amount more with the Red/blue mounts. The Enforcer cups are ideal for track driven cars as they contribute to additional noise & vibration. Note that worn transmission mounts may also be masking vibrations from worn engine mounts too, and it's a good idea to replace your motor mounts at regular intervals or the same time as installing new transmission mounts. The optional aluminum Trans Mount Enforcers fit over the top of the mounts and give additional strength to the whole design (recommended for track cars, not generally needed or recommended on street cars.)
Price is for a pair of mounts with hardware. Enforcer Cups are additional.
Aluminum Enforcer Cups are an optional feature. Complete assembly pictured above.
This item fits the following BMWs:
1986-1988
E28 BMW
528e 533i 535i 535is M5
1984-1991
E30 BMW
318i 318is 318ic 325e 325es 325i 325ic 325is
1989-1995
E34 BMW
525i 530i 535i 540i M5
1992-1998
E36 BMW
318i 318is 318ti 318ic 323is 323ic 325i 325is 325ic 328i 328is 328ic M3
1997-2003
E39 BMW
525i 528i 530i 540i M5
1999-2005
E46 BMW
323i 323ci 325i 325ci 328i 328ci 330i 330ci M3
2008-2012
E82 BMW
128i 135i 1M Coupe
2006-2011
E90 BMW
325i 328i 330i 335d 335i - Sedan
2006-2012
E91 BMW
328i - Wagon
2007-2013
E92 BMW
328i 335i 335is - Coupe
2007-2013
E93 BMW
328i 335i - Convertible
1997-2002
Z3 BMW
Z3 2.3 Z3 2.5i Z3 2.8 Z3 3.0i M Roadster M Coupe
2003-2008
E85 BMW
Z4 2.5i Z4 3.0i Z4 3.0si Z4 M Roadster M Coupe

Part #: TMS3779
In Stock

Free Shipping
on orders $199 and up