BMW E30 M3 Water Pumps

When maintained, your BMW's cooling system should be bulletproof. The weakest link on any BMW model is likely to be the water pump, thermostat, or electrical parts on the newer models. BMW water pumps have gone through many design and material changes over the years in an effort to make the cooling system more efficient and reduce parasitic drag on the engine. The water pumps we sell are the latest and best designs that BMW and OEM suppliers can produce. Whenever possible we prefer to sell a water pump with a composite impeller, not metal. The latest BMW designs use a composite impeller that is far lighter than metal and much stronger than plastic. Metal impeller pumps are typically heavier and may have bearing problems that lead to premature leaks. Plastic pumps were infamous in the mid-1990s for disintegrating. The composite impellers have proven themselves for over a decade as a trouble-free and efficient design and many of the OEM suppliers are also introducing updated composite designs for older models too.

For accurate results, specify your model below.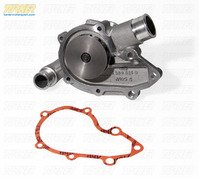 This is the stock replacement water pump for the E30 M3. This is the Genuine BMW pump and includes a new OE BMW gasket. It's always a good idea to have one as a spare. Even if it sits on your shelf for awhile it's going to be used at some point (and prices for Genuine E30 M3 parts aren't getting any lower). Aftermarket pumps have been in short supply and the quality hasn't been as good as the Original BMW pump so we have decided to stop offering aftermarket brands like Laso or Saleri. This is the Genuine BMW part, straight from BMW.
This item fits the following BMWs:
1987-1991
E30 BMW
M3
Packaged by Turner
Part #: 11511315211
Ships in 4 days
Free Shipping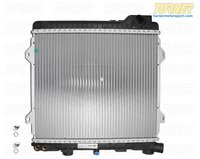 This cooling package for the E30 M3 consists of all of the major components on the S14's cooling system. There are no major weak points to the E30's cooling system, unless you count skipped maintenance. The entire system is serviceable in individual components so you don't need to buy a complete package of parts. Many of the indivdual parts are on our site but we have setup this package to cover all or most of what you would need to perform a major overhaul. This overhaul package consists of an Genuine BMW radiator and then you build the package from there. Add hoses, sensors, water pumps, thermostats, gaskets, hose clamps, and more. We also sell the Original BMW antifreeze to finish off the job.
Any problems with the cooling system are likely electrical. Sensors become corroded and fail over time which will send the incorrect signal to the corresponding unit, including the engine computer. Diagnosis of electrical type problems is easy and repair with the OEM Bosch or OE BMW sensors is not too expensive for a car like this. Electrical connections, particularly solder joints, can also become brittle and fail. These are not helped by the intense vibrations of the S14.
Top Turner Tip for a healthy S14!
E30 M3s always seem to have cooling problems at the most inconvenient time. If the temp gauge starts rising in the summer months first check and make sure your auxiliary cooling fan is working if it's not it's most likely the switch or the wiring going to the switch. Also remember that the E30 instrument conductor plate can make the gauge read whacky try tapping the gauge if it seems like it's acting up. When it's time to do a water pump (which weeps through a hole on the bottom before it goes completely) take a good look at the radiator too its not expensive and you have to remove it to install the pump anyway.
Use the options below to build your package.
This cooling package fits the following BMWs:
1988-1991
E30 BMW
M3
Packaged by Turner
Part #: TMS16418
Ships in 4 days