BMW E30 M3 Sway Bar Kits
The next step in tuning your car's handling - after shocks/springs and camber plates - should be a set of swaybars. Using larger front and rear sway bars will give your car better/quicker turn-in and less bodyroll in corners. These bars replace the existing sway bars on the car for a clean and simple upgrade with very little downside. Sway bars should be matched with your springs/shocks to maintain a proper handling balance. In some cases only a front or rear bar is needed to positively change the balance and make the car more neutral. We sell sway bar kits from H&R, Racing Dynamics, OE BMW upgrades, and even some of our own designs. Swaybars are sold with new bushings. New links and other hardware are strongly recommended.

For accurate results, specify your model below.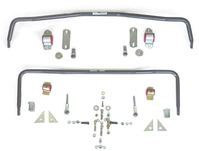 This kit includes everything for installation including a 22mm front bar, 19mm adjustable rear bar, polyurethane bushings, adjustable rear links and full hardware kit. We have been selling this kit since 1993 and we still love it. Perfect for street or track use.
This item fits the following BMWs:
1984-1991
E30 BMW
318i 318is 318ic 325e 325es 325i 325ic 325is M3

Part #: 52010
Ships on Mar 30, 2018
This adjustable rear sway bar / swaybar is 19mm is much larger than stock (stock 325e/i/ix is 12mm, M3 is 14.5mm) to provide better handling and roll resistance. This rear bar is a GREAT upgrade for the 325ix. (a popular upgrade is cutting a coil off the front spring and installing this bar) It is also adjustable for fine tuning of the performance characteristics. Fits BMW E30 318i 325e 325i 325ix M3 1984-1991.
This item fits the following BMWs:
1984-1991
E30 BMW
318i 318is 325e 325es 325i 325is 325ix M3

Part #: 51010
Direct Ship
Free Shipping