BMW E30 M3 Oil Pan Baffles

Keeping the oil near the oil pump is crucial for the system to work correctly. Unfortunately, some BMW models suffer from oil starvation on the track. During cornering, G forces slosh the oil away from the oil pump pickup. Cornering for long periods of time (oval bankings, for instance) can starve the engine of enough oil to lead to catastrophic failure. We offer oil pan baffles that pool enough oil around the pickup that starvation is virtually eliminated. These kits are an absolute MUST for track-driven cars and have been developed and proven over our long motorsports history.

For accurate results, specify your model below.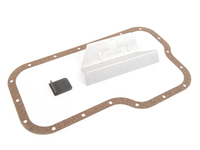 A MUST for every E30 M3! This is the first and most important modification you should make! During hard cornering/long sweeping corners the engine oil moves up the sides of the oil pan causing oil starvation! Oil starvation is a very common cause of engine failure in E30 M3's without a baffle. Our easy to install oil pan baffle kit keeps the oil near the pick-up and therefore reduces oil starvation. Our baffle along with the engine oil filled up 1 pint above the top mark on the dipstick with a quality synthetic oil will help insure a long lasting M3 motor. This baffle is a one piece unit, not a modified, welded stock baffle. No core charge! Includes detailed instructions. Lower oil pan gasket included. Installs in about 1 hour.

Part #: TEN3031B30-Group
In Stock

Free Shipping
on orders $199 and up