BMW E30 M3 Exhaust System Upgrades

A performance exhaust is a modification that you get constant benefit from - at every change of the throttle you are rewarded with that tuned sound. It's not like other modifications where you may not realize all of its benefits all the time. It's an upgrade that you enjoy at all times when you're behind the wheel. We offer exhaust upgrades from multiple performance manufacturers like Borla, Corsa, Supersprint, and Akrapovic but we have also developed or sourced other exhaust systems to meet specific needs.

For accurate results, specify your model below.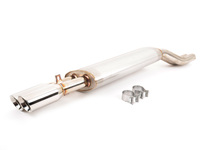 Finally -- an affordable, well-designed, well-manufactured exhaust for the E30 M3! This Diablo exhaust, made by our friends at Rogue Engineering, is 100% T-304 stainless steel, weighs on 18 lbs, has tubing that is 23% larger than stock, and much better flow over the stock exhaust. It uses a factory style hanger setup for easy installation with no modifications, cutting or welding required.
The exhaust is perfect for both a stock 2.3 liter M3 as well as heavily tuned or modified M3s, such as those with the 2.5 liter conversion. This muffler is also GREAT for swapped E30 M3's, such as S50/S52 or S54 engine swaps. Whether your E30 M3 is tastefully enhanced or modded to the gills, this exhaust is a great addition. And at a price which is LESS than a stock E30 M3 exhaust.
E30 M3 Diablo Exhaust Features:
Fully mandrel bent tubing, no crimps or flattened areas
100% T-304 stainless steel construction, including internals
Mil-finished pipes and muffler
Mirror polished stainless steel 76mm double wall tips
Full TIG welded construction, no lock seams or pinch welds
Rogue Engineering "RE" logo tastefully stamped in the body of the muffler
Two (2) Stainless Steel Accu-seal clamps included for installation




Part #: RE-DIABLO-E30M3
Ships in 6 days