BMW E30 M3 Performance Headers & Downpipes

Headers are a bolt-on component that will make a huge improvement in how your BMW performs. As a replacement for your factory BMW exhaust manifold, our BMW headers provide a more direct path for exhaust gasses leaving your engine. Headers prevent your BMW's exhaust pulses from "fighting" one another as they leave the head. The end result is that BMW headers give you more power and torque, and you'll love the high-winding top end push that a free-breathing engine exhibits. BMW headers are a must-have if you're doing any engine modifications on your vehicle. Along with a cold air intake, BMW headers provide the free-flowing exhaust necessary to get the most power out of your motor.

For accurate results, specify your model below.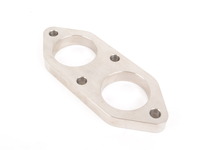 Looking to add a custom center section to your E30 M3 exhaust? Or installing an S14 engine in another chassis? You're going to need a front flange to meet up to the flange on the header. BMW flanges are typically specific to the vehicle model and the E30 M3 flanges are not shared with any other model. This will leave you in a bind when putting together a custom exhaust. We have designed and built this flange from stainless steel and is a perfect matchup to the flange on the stock S14 header. This flange is designed to be welded to 2" piping in the center section. The OEM gasket rings can be used with it.
Only one required per car.
This item fits the following BMWs:
1987-1991
E30 BMW
M3
Other
BMW models using the S14 engine.