BMW E31 Transmission Filter Kits & Transmission Service Parts
BMW automatic transmissions require a regular filter and fluid change. While BMW has recently implemented "Lifetime" fluid on most current models, we feel that it is critical to change the transmission filter and flush the fluid at least every 50,000 miles. We carry the BMW transmission filters and special transmission fluids for your BMW.

For accurate results, specify your model below.

Changing your Automatic Transmission Filter and fluid is essential for the longevity of your BMW's transmission. We recommend filter and fluid changes every 50,000 miles. This filter fits A5S440Z automatic transmissions on BMW E39 540I E38 740I 740IL E31 840I 840CI E53 X5 4.4I 4.6IS

Kit Contains:
1 x 24341422673- Transmission Filter
1 x 24111422676- Gasket for Transmission Filter
1 x 24341422152- O-ring for Transmission Filter

This item fits the following BMWs:
1/1997-2003 E39 BMW 540i 540I wagon
1/1997-2001 E38 BMW 740i 740il
1/1997-1999 E31 BMW 840ci
2000-2003 E53 BMW X5 4.4i X5 4.6is
Packaged by Turner
Part #: 24341422673KIT
Ships on Feb 28, 2018

Free Shipping
on orders $199 and up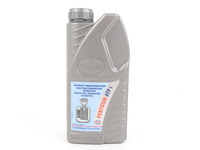 This Pentosin brand Automatic Transmission Fluid - ATF - is the equivalent to Esso LT 71141. It is designed to work on BMWs with "Green Tag" Automatic transmissions. It fits BMW E46 323i 323ci 325i 325ci 330i 330ci. E39 525i 530i 540i . E38 740i 740il 750il. E31 840ci. E53 X3 4.4i.4.6is Only for cars with "Green Tag" transmissions.
You MUST check for the Green tag on the transmission before ordering.
This item fits the following BMWs:
3/2000-9/2000
E46 BMW
323i 323ci
2001-2/2002
E46 BMW
325i
2001-2/2003
E46 BMW
325ci - M54 engine only
2003-2005
E46 BMW
325i 325ci with M56 engine
2001-2/2003
E46 BMW
330i 330ci
3/2001-2003
E39 BMW
525i 530i 540i
7/1994-2001
E38 BMW
740i 740il
1/1995-2001
E38 BMW
750il
2000-2003
E53 BMW
X5 4.4i X5 4.6is
12/1995-7/1997
E31 BMW
840ci 850ci
Part #: 83229407807
Ships in 2 Days

Free Shipping
on orders $199 and up