BMW E31 Body Trim Parts & Accessories
BMW exterior and body trim includes glazing, window trim, glass, moldings, door covers and handles, trim panels, blackline trim, window mouldings, antenna, jack pads, convertible top parts, door lock equipment, exterior-mounted sensors (temp sensors), splash wall panels, wheel well liners, windshield trim and cowl covers, headlight eyelids, tow hook covers, license plate frames, and more. We get our BMW trim pieces from BMW directly (unless noted) - not aftermarket parts with poor quality.

For accurate results, specify your model below.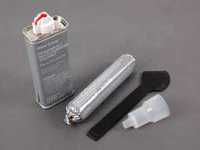 Betalink K1 (Beta Link) adhesive for installation of many aerodynamic components including spoilers and splitters. This is the Genuine BMW adhesive kit that they recommend for Genuine BMW aerodynamic pieces and is specially formulated for the paint and urethane spoiler materials that BMW uses.
This is the basic kit that includes:
solvent cleaner (125mL)
1-part epoxy (80mL)
sandpaper
applicator tool (spatula)
For best results:
Bonding surfaces must be cleaned with the cleaner and must be free from grease.
The ambient temperature for bonding must be no lower than 15°C and no higher than 35°C.
The Betalink glue K1 must be allowed to harden for at least 6 hours at room temperature.
The car must not be cleaned in a car wash for at least 48 hours afterwards.

Part #: 82699408866KT
In Stock

Free Shipping
on orders $199 and up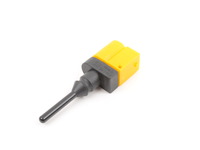 This external air temperature sensor is typically mounted on the lower side of the front spoiler on many BMW's. It provides the outdoor temperature reading to the OBC (on board computer). Over time the sensor can become damaged by road debris causing a faulty temperature reading. If you are seeing a temperature reading of -36 when in fact it is 92 degrees out then there is a good chance your sensor is faulty or damaged. Replaces part number 65818350779 .
This item fits the following BMWs:
1987-1991
E30 BMW
318i 318is 318ic 325e 325es 325i 325ic 325is 325ix M3
1992-1998
E36 BMW
318i 318is 318ti 318ic 323is 323ic 325i 325is 325ic 328i 328is 328ic M3
1989-1995
E34 BMW
525i 530i 535i 540i M5
1988-1994
E32 BMW
735i 735il 740i 740il 750il
1990-1999
E31 BMW
840i 840ci 850i 850ci 850csi
1997-2002
Z3 BMW
Z3 1.9 Z3 2.3 Z3 2.5i Z3 2.8 Z3 3.0i

Part #: 65811383204
Ships in 3 days

Free Shipping
on orders $199 and up