To fit wider wheels or spacers on lowered BMWs, fender rolling is often required. Forming the fenders can be expensive from shops that offer the service, but it is an easy job that can be done at home with our fender rolling equipment. On this page, you will find our Schwaben Fender Roller and Fender Forming Tool so you can fit the wheels and tires for the stance and look you want.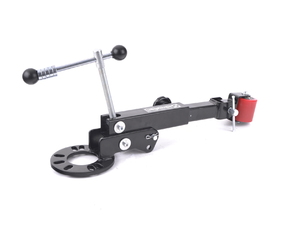 Fits up to 13mm wheel studs/bolts. Holes will need to be enlarged to fit vehicles with 14mm wheel studs/bolts.

This professional-grade fender roller allows you to gently and gradually flatten your inner fender lips in order to increase your fender to tire clearance.
This is the perfect tool for:
If you want to lower your vehicle
If you want wider-than-stock wheels
If you are going to use wheel spacers or decreased offset
By rolling the fender lip flat, you can lower your car further, and give your car a wider stance, without your tires rubbing on the inside of the fender.
Fully adjustable for use on vehicles of different ride heights, offsets, and wheel bolt patterns. Fits 4 and 5 lug hubs with up to 120.6mm (4.75") bolt patterns.
Works on up to 0.507in./13mm studs
Cars with larger 14mm studs require enlarging slots to 14mm
Use of a heat gun is recommended to soften the fender surface during the rolling process and prevent paint cracking.