E31 Schwaben Lighting
Whether you're working in your driveway after hours or your workspace lighting isn't cutting it, Schwaben lighting products are here to make your job easier. Featuring all LED lighting, Schwaben lighting is sure to keep your workspace lit while you're working on your BMW.

For accurate results, specify your model below.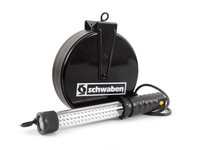 The 15" long head features 60 super bright LED's. 51 LED's light up the wide side view and 9 LED's on the end for more of a flashlight mode. Featuring a drop-down design to keep the light handy when you need it, but out of the way when you don't.
Features:
120 Lumens
30 ft. Cord
Fully adjustable position stop
Hooked end

Part #: 010641SCH01A
In Stock

Free Shipping
on orders $99 and up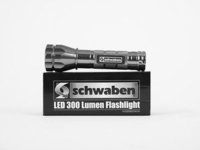 This high quality LED flashlight can fit in the palm of your hand and throw a super bright beam of light over a great distance. Equipped with a CREE high power LED for optimal light output. LED is very energy efficient and can last for up to 50,000 hrs. The large 1.5 in. reflector is excellent for maximun distance.
Features:
High Output, high quality 3-Watt CREE LED lamp.
Tail cap push button has three different switch settings, 300 Lumen, 150 Lumen and off.
Durable Rigid aluminum alloy case.
Anti roll hex shaped design head.
O-ring sealed, water resistant.
Battery life up to 10 hrs.
Complete with wrist lanyard.
Includes 3 AAA batteries.
Head diameter 1.5 in., Overall length 5.5 in., Body diameter 1 in.

Part #: 015254SCH01A
In Stock

Free Shipping
on orders $99 and up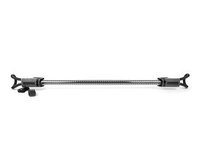 This underhood light was designed especially for automotive under the hood work. Featuring 120 super bright LEDS for complete engine bay illumination. Built from heavy duty materials, Thermoplastic Rubber, Aluminum and ABS . LEDS are fully protected by a polycarbonate transparent lens.To protect the hood from scratches, hooks have a soft foam covering. LEDs are designed to last up to 100,000 hours for years of trouble free service.
Features:
Corded 120 LED's
Rugged heavy-duty design for long life.
Made from ABS, thermoplastic rubber and aluminum.
Polycarbonate transparent lens.
Spring loaded built in telescopic mounting brackets hold tight onto hood.
Soft padded hooks provide good protection against hood scratches.
Long 15ft power cord.
Two working modes : Low beam and high beam illumination.
On and off power switch.
Working hood width : 48 to 74 in.

Part #: 006191SCH01A
In Stock
Free Shipping