BMW E32 Stock OEM Replacement Brake Pads
Turner Motorsport does not usually sell the OE or OEM type brake pads. The typical TMS customer is looking for better-than-stock braking performance. But there are some cases where the stock pads actually perform pretty well. Or in some cases, our pad suppliers have not come out with an option for a newer model yet and the OEM pad is the only current option. For these customers, we offer Genuine BMW pads or pads from Original Equipment Manufacturers like Ate, Textar, Pagid, and others.

For accurate results, specify your model below.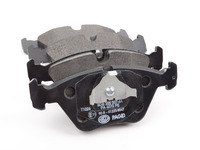 These OEM Pagid brake pads surpass the quality and safety standards of the European ECE-R90 directive. Their semi-metallic friction material helps to provide maximum braking performance right from the start in every driving situation. They also feature anti-noise shims for low braking noise in accordance with O.E. standards.
This item fits the following BMWs:
1995-1998
E36 BMW
M3
1989-1995
E34 BMW
525i 530i 535i 540i
1988-1994
E32 BMW
735i 735il 740i 740il 750il
1998-2002
Z3 BMW
M Roadster M Coupe

Part #: 34111162535
Ships on Dec 29, 2017

Free Shipping
on orders $199 and up
Ceramic Brake pads have advanced a great amount and show drastic advantages over traditional metallic and semi-metallic brake pads. Akebono in particular has been producing brake pads for major brands for years and their Euro brake pads have seen use in over 90 models of vehicles as the OE brake pads, ensuring high, consistent quality.
Thanks to Akebono's pad formulation, you can enjoy many benefits including:
Reduced Heat Absorption
Reduced Brake Fade
Reduced Stopping Distances
Significantly Less Brake Dust
Increased Brake Rotor Life

This item fits the following BMWs:
1988-1994 E32 BMW 750iL 740i 740iL
1989-1995 E34 BMW 525i 530i 535i 540i
1991-1993 E34 BMW M5
1995-2002 E36/E46 BMW M3
1998-2000, 2002 Z3 BMW

Part #: eur394
In Stock
Free Shipping