Why drill holes in your BMW's front bumper? The 'NO HOLES' License Plate Bracket (NHLPB) allows you to mount a front plate to your BMW without having to drill into your front bumper. Instead, it utilizes a custom machined stud that screws into the towhook receptacle. All parts are made from Stainless Steel to ensure no rust. The mounting hardware utilizes nylock nuts or lock washers which will not loosen from vibration. The plate attachment screws are button head socket cap screws for a nice clean look.

We carry a wide variety of BMW license plate frames with the M3, M5 or M logo or in real carbon fiber for a unique look. Whether you are looking to give your BMW a new look with our "No Holes" license plate bracket, a new license plate frame or just replace factory license plate mounting parts, we have the parts you need.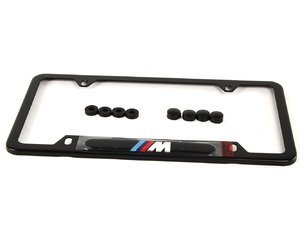 This is a Black license plate frame with the BMW motorsport "M" logo. This Genuine Original BMW part is a great way to improve the looks of any BMW. The "///M" emblem is domed for a classy look. These are sold individually, so be sure to order two -- one for the front license plate, and one for the rear.