BMW E34 M5 Parking Brake Parts

Parking Brakes - also know and emergency brakes, or hand brakes, help to keep your BMW stationary when parking or on an incline. Over time the parking brake shoes tend to wear out making it more difficult to secure the car. We recommend inspecting the parking brake shoes, cables and associated hardware any time rear rotors are replaced.

For accurate results, specify your model below.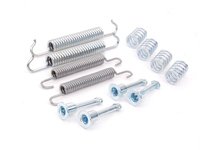 This emergency brake spring kit includes both the tension springs and the pin that secure the rear parking brake shoes.
This item fits the following BMWs:
1995-1999
E36 BMW
M3
1982-1988
E28 BMW
524td 528e 533i 535i 535is M5
1989-1995
E34 BMW
525i 530i 535i 540i M5
1997-2003
E39 BMW
525i 528i 530i 540i
1983-1989
E24 BMW
633csi 635csi M6
1982-1987
E23 BMW
733i 735i
1988-1994
E32 BMW
735i 735il 740i 740il 750il
1995-2001
E38 BMW
740i 740il 750il
1990-1999
E31 BMW
840i 840ci 850i 850ci 850csi
1998-2002
Z3 BMW
M Roadster M Coupe
2000-2003
E52 BMW
Z8 Roadster

Part #: 34410304724
In Stock

Free Shipping
on orders $199 and up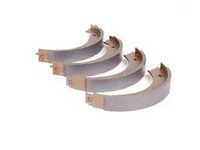 These Parking Brake Shoes for E36 M3, MZ3, e38 and Z8 include the set of 4 shoes to replace both the left and right rear parking brake shoes. These are also referred to as the hand brake or emergency brake shoes.
This item fits the following BMWs:
1995-1999
E36 BMW
M3
1982-1988
E28 BMW
524td 528e 533i 535i 535is M5
1989-1995
E34 BMW
525i 530i 535i 540i M5
1983-1989
E24 BMW
633csi 635csi M6
1982-1987
E23 BMW
733i 735i
1988-1994
E32 BMW
735i 735il 740i 740il 750il
1995-2001
E38 BMW
740i 740il 750il
1998-2002
Z3 BMW
M Roadster M Coupe
2000-2003
E52 BMW
Z8 Roadster

Part #: 34416761294
In Stock

Free Shipping
on orders $199 and up