BMW E34 M5 Transmission Parts
Looking for parts for your BMW automatic transmission or manual transmission? You'll find many of the parts available to service your BMW's transmission here. While internal transmission servicing and rebuilding should be done by professionals, there are a lot of things on the outside of the transmission that you can service or replace yourself. These include gearbox seals, o-rings, gaskets, automatic transmission filters, backup light switches, mounting bolts, flanges, collar nuts, screw plugs, Mechatronics, and more.

For accurate results, specify your model below.
This is the reverse light switch that is mounted on the back of the transmission. Only for cars with manual transmission.
This item fits the following BMWs:
1977-1983
E21 BMW
320i
1984-1991
E30 BMW
318i 318is 318ic 325e 325es 325i 325ic 325is 325ix M3
1976-1981
E12 BMW
528i 530i
1982-1988
E28 BMW
524td 528e 533i 535i 535is M5
1989-1991
E34 BMW
525i 530i 535i 540i M5
1982-1989
E24 BMW
633csi 635csi M6
1981-1987
E23 BMW
733i 735i
1988-1991
E32 BMW
735i 735ill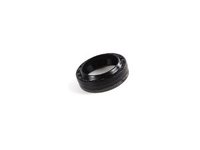 This is the shifter shaft seal for manual transmissions. It is common for this item to develop a leak. We recommend replacing it when installing a new clutch. Alternate part number 23121222677.
This item fits the following BMWs:
2008+
E82 BMW
128i
1977-1983
E21 BMW
320i
1984-1991
E30 BMW
318i 318is 318ic 325e 325es 325i 325ic 325is 325ix M3
1992-1998
E36 BMW
318i 318is 318ti 318ic 323is 323ic 325i 325is 325ic 328i 328is 328ic M3
1999-2005
E46 BMW
323i 323ci 325i 325ci 325xi 328i 328ci 330i 330ci 330xi
2006+
E90 BMW
325i 328i 335i 335xi 335i xDrive M3
2006+
E91 BMW
328i - no Xi
2007+
E92 BMW
328i 35i 335is 335xi 335i xDrive M3
2007+
E93 BMW
328i 335i M3
1982-1988
E28 BMW
524td 528e 533i 535i 535is M5
1989-1995
E34 BMW
525i 530i 535i M5
1997-2003
E39 BMW
525i 528i 530i
2006-2007
E60 BMW
525i 530i
2004-2010
E60 BMW
528i 535i 535xi 535i xDrive 545i 550i M5
1984-1989
E24 BMW
633csi 635csi M6
2004-2011
E63 BMW
645ci 650i M6
2000-2006
E53 BMW
X5 3.0i
1997-2002
Z3 BMW
Z3 1.9 Z3 2.3 Z3 2.5i Z3 2.8 Z3 3.0i M Roadster M Coupe
2003-2005
Z4 BMW
Z4 2.5i
2006-2008
Z4 BMW
Z4 3.0i with N52 engine - Not 3.0si
2009+
Z4 BMW
Z4 sDrive30i Z4 sDrive35i