BMW E34 Sway Bar Kits
The next step in tuning your car's handling - after shocks/springs and camber plates - should be a set of swaybars. Using larger front and rear sway bars will give your car better/quicker turn-in and less bodyroll in corners. These bars replace the existing sway bars on the car for a clean and simple upgrade with very little downside. Sway bars should be matched with your springs/shocks to maintain a proper handling balance. In some cases only a front or rear bar is needed to positively change the balance and make the car more neutral. We sell sway bar kits from H&R, Racing Dynamics, OE BMW upgrades, and even some of our own designs. Swaybars are sold with new bushings. New links and other hardware are strongly recommended.

For accurate results, specify your model below.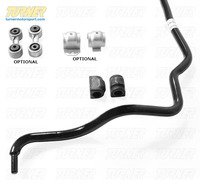 For the M5 3.8 BMW offered an optional Nurburgring handling package with this 20mm rear sway bar. This is currently the biggest rear sway bar available anywhere and is a direct bolt-in replacement for the stock or aftermarket bar. This bar is complete with new rubber bushings with new brackets and links optional.
The larger bar will make the suspension stiffer than before, with less roll and less understeer. The larger rear bar will actually make the rear end rotate easier making the car more agile in tight corners. If you have stock E34 (non-sport) swaybars on now this 20mm Nring bar will be a huge difference. If you have an E34 sport suspension, E34 M5, 540i M Sport, or aftermarket cars the difference will be smaller. But since BMW installed this as part of a factory handling package it will be an improvement for track, autocross, or backroad handling.
Included in this package:
33552227416 - E34 M5 3.8 Nurburgring 20mm rear swaybar
33552227240 - 20mm rear swaybar bushings
optional 33506779734 - rear swaybar bushing brackets (not required but get rid of those rusty original ones!)
optional 33551135307 - rear swaybar links
This sway bar upgrade fits the following BMWs:
1989-1995 E34 BMW 525i 530i 535i 540i M5


Part #: TMS16594
Ships on May 10, 2018
Free Shipping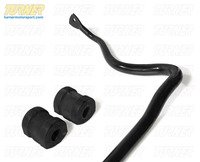 This is the Original BMW Sport Suspension front sway bar as used on the M5 3.8 and 540i M-Sport models. This is the real factory Euro M5 front swaybar! It's a hefty 25mm in diameter and with less bends than the other 25mm Sport sway bars. The fewer bends means the bar is stiffer so even people with the stock 25mm Sport swaybar will feel a (small) difference. The bar includes new rubber bushings and mounts to the car with the original bushing brackets and sway bar links.
If you're upgrading from a standard swaybar you should strongly consider also purchasing the Nurburgring 20mm rear sway bar at the same time. Sway bars work best when balanced with the rest of the chassis. Using a front bar that is too large in relation to the rear bar (and other suspension upgrades) can result in undesirable handling.
This front swaybar fits all E34 except the 1991-1995 525i (M50 engine). Fitting to the M50 cars can be done but requires modification to the front subframe and other pieces.
This item fits the following BMWs:
1989-1990
E34 BMW
525i
1989-1995
E34 BMW
530i 535i 540i

Part #: TMS20543
Ships in 5 days
Free Shipping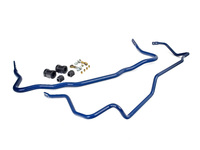 These adjustable sway bars are larger than the stock, original BMW bars. They allow you to fine-tune the handling of your car using adjustable settings on both the front and rear bars. This kit features a 3 way adjustable 27mm front bar and a two way adjustable 19mm rear bar. These are significantly bigger than the stock E34 non-sport sway bars and slightly larger than an E34 sport or E34 M5 set. They are currently the largest sway bar set currently on the market. The complete kit also includes polyurethane bushings and new adjustable rear sway bar links (original links are used in the front).
Swaybar Set 1968134010 fits the following BMWs:
1989-1995
E34 BMW
525i 535i M5

Part #: 1968134010
Back Ordered, Contact Us