BMW E34 Hawk HP Plus Brake Pads
The HP Plus pads were designed for autocross use and are a great pad when a track pad is needed for light use on the street. It was designed specifically for autocross, Solo II, and driver school events. HP Plus pads feature high friction levels in a broad temperature range, allowing you to use these pads to get to and from the track and still achieve 'race-level' braking performance on the course. The HP Plus is an introductory racing pad and is a great step-up from a street pad if you have exceeded its capabilities on the track. Although you can use these pads on the street, they do need more heat in them than the stock or HPS pads to work effectively. If used on the street, you will notice higher rotor wear, noisier brakes, and more dust than a street pad (all typical of 'race-only' pads).

For accurate results, specify your model below.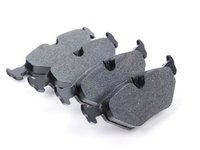 Hawk's HP Plus pads fill the need for a "dual-purpose" pad - offering acceptable street performance that also holds up well on the racetrack. The beauty of these pads is that you can put them on at home or your shop and use them to drive to and from the track, with a full day of on-track driving in between. While these track pads actually do work on the street, noticeable increases in noise, dust, and brake wear are to be expected. These pads are great for the weekend track junkie who wants exceptional street performance while also having a capable pad on the track. They are excellent for novice and first-time drivers while also being a favorite of instructors too. And they are inexpensive compared to most full race pads.
These are not all-out racing pads, however, and they work best when used within their temperature range (100-800*F). Higher friction levels and brake temps will increase wear, especially on heavier cars. Brake cooling kits are strongly recommended. If you find these pads are not lasting, or you are exceeding their performance capability, it will be time to step into a full, dedicated track/racing pad.
These Rear Hawk HP Plus Pads fit the following BMWs:
1987-1991
E30 BMW
M3
1987-1994
E32 BMW
735i, 735iL, 740i, 740iL, 750iL
1989-1995
E34 BMW
525i, 530i, 535i, 540i, M5
1992-1999
E36 BMW
318i, 318is, 318ic, 318ti, 323is, 323ic, 325i, 325is, 325ic, 328i, 328is, 328ic
1995-1999
E36 BMW
M3
1997-2003
E39 BMW
525i, 528i, 530i, 540i
1999-2006
E46 BMW
323i, 323Ci, 323iT, 325i, 325Ci, 325iT, 325Xi, 325XiT, 328i, 328Ci
1996-2002
Z3 BMW
Z3 1.9, 2.3, 2.8, 3.0, M Roadster M Coupe
2003-2008
Z4 BMW
Z4 2.5i (M54), 3.0i (M54), 3.0i (N52), 3.0Si (N52)
Part #: TMS357
In Stock