BMW E34 Brake Master Cylinders
The brake master cylinder is responsible for distributing fluid from the reservoir to the front and rear brake systems. The fluid reservoir actually sits on top of the master cylinder with hard metal brake lines running out of it. There are a few places where the master cylinder can leak and cause a spongy or soft brake pedal. The inside has several pistons with o-rings and seals that can fail and allow brake fluid to escape. Likewise, the external metal lines also have o-rings where fluid can seep out or let air/moisture in.

For accurate results, specify your model below.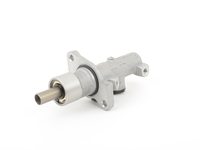 This is an OEM replacement brake master cylinder that fits many E32 and E34 models. If your original BMW brake master cylinder has failed, this is the high quality replacement you need. 3/1988-1992
E32 BMW
735i 735il
1989-1990
E34 BMW
525i
1989-1995
E34 BMW
535i M5
This is the Genuine BMW brake vacuum check valve for E30 325i and E34 525i with M20 engine/ This check valve is mounted on the vacuum line that goes to the brake booster from the throttle body.
This item fits the following BMWs:
1984-1991
E30 BMW
325i 325ic 325is 325ix
1989-1990
E34 BMW
525i