BMW E34 VANOS Units & Parts
The BMW VANOS system (
va
riable
No
ckenwellen
s
teuerung - variable camshaft timing) was introduced in the early 1990s as a way of altering timing based on RPM and engine load to improve torque delivery, fuel economy, and engine smoothness. The first systems were single-VANOS and operated the intake cam only. Beginning in 1999, double-VANOS was introduced that did both intake and exhaust banks (on both inline-6 and V8 engines).
By 150,000 miles the original VANOS actuator solenoids, seals, and o-rings are usually due for a complete replacement. Some individual pieces may have been replaced already. Signs of a dying unit are loud marble-like rattles from the front of the engine, loss of power and mid-range torque, poor fuel economy, and fault codes for misfires and VANOS-related sensors. VANOS sensors, solenoids, and some other parts are available separately. VANOS units can be rebuilt by sourcing the seals and o-rings on their own but that process still requires expert mechanical knowledge and special tools. We prefer to offer complete, rebuilt VANOS units to make the replacement as seamless and trouble-free as possible for you.
Note: all VANOS systems require special tools for correct repair and replacement. These tools are BMW specific. If you do not possess these tools we strongly advise you to bring the parts to a qualified and experienced BMW technician who does.

For accurate results, specify your model below.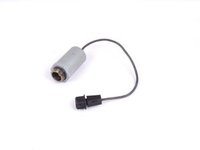 This is the solenoid switch that activates the VAN0S system on 1993-1995 325i, 525i, and US M3 models (single VAN0S, OBD-I). Without this switch activating (and de-activating) the VAN0S you will experience poor performance and torque output, worse fuel economy, fault codes for VAN0S operation and misfires. Thankfully, this part is relatively easy to replace and they generally last a long time. This is the Genuine BMW solenoid, not an overseas knockoff, so the quality is first-rate. This is the solenoid used on M50 and S50US engines (pre-OBD-II).
If you are looking to install the VANOS solenoid, you should also order the o-ring from the options below. Also check for leaks from the VAN0S oil line and seals. Now is a good time to access and replace it if it's leaking.
This item fits the following BMWs:
1993-1995
E36 BMW
325i 325is 325ic M3
1993-1995
E34 BMW
525i

Part #: 11361738494
Ships in 2 days

Free Shipping
on orders $199 and up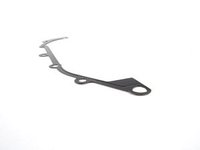 This is the steel/rubber VAN0S gasket between the VANOS unit and cylinder head. It's a must-have item when replacing the VANOS unit and also a potential leak point on the M50/M52. The original gasket cannot be re-used so make sure you have a new one on hand.
This item fits the following BMWs:
1992-1999
E36 BMW
323is 323ic 325i 325is 325ic 328i 328is 328ic M3
1997-1998
E39 BMW
528i
1997-1998
Z3 BMW
Z3 2.8
1998-2000
Z3 BMW
Z3 M Roadster M Coupe

Part #: 11361740840
In Stock

Free Shipping
on orders $199 and up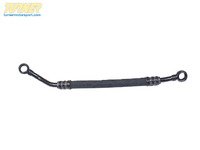 This oil pipe hose runs from the VANOS adjusting unit to the oil filter housing. At some point the rubber line shrinks or cracks and oil can weep out of the swedge fittings. The fittings at the banjo bolts can also leak so replacing the seals for each banjo fitting is strongly recommended.
When doing any sort of repair or maintenance there is no replacement for genuine factory parts. Turner Motorsport carries the Genuine BMW brand with pride and has the parts you need to complete your next project with confidence.
This item fits the following BMWs:
1993-1995
E36 BMW
325i 325is 325ic M3 3.0
1993-1995
E34 BMW
525i

Part #: 11361703464
Direct Ship