BMW E34 Distributor Caps & Rotors

Maintenance on your car can sometimes lead to as much improvement as a performance modification. Along the same lines, performance mods may appear to be ineffective if your car is out of tune. All of the ignition caps and rotors, and all of the spark plugs that we sell are made by Bosch. Why settle for anything less than the best?

For accurate results, specify your model below.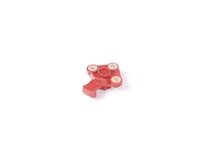 Over time heat can harden and crack the ignition rotor, and wear can lead to misfires and no-starts. Replace your ignition rotor with a brand new high quality Bosch Rotor to ensure a smooth running engine. OEM replacement for BMW Part # 12111715906 and 12111734110.
Bosch is one of the largest OEM producers of Genuine BMW and aftermarket parts in the world, providing parts for almost every major automotive manufacturer. Bosch has likely supplied many of the original electrical (and mechanical) parts for your BMW. Thanks to their quality, high durability, and reliability, you should expect a long service life from Bosch products.
As a leading source of high performance BMW parts and accessories since 1993, we at Turner Motorsport are honored to be the go-to supplier for tens of thousands of enthusiasts the world over. With over two decades of parts, service, and racing experience under our belt, we provide only quality performance and replacement parts. All of our performance parts are those we would (and do!) install and run on our own cars, as well as replacement parts that are Genuine BMW or from OEM manufacturers. We only offer parts we know you can trust to perform!
Fits the following BMW engines: M20 M30 M40 S38 M70 M73 S70

Part #: 12111734110
In Stock

Free Shipping
on orders $199 and up