BMW E36 M3 Brake Overhaul Packages
We sell complete brake packages that include everything you would need in a typical brake overhaul. These are the typical wear items that need to be replaced - front and rear brake pads, rotors, brake wear sensors, brake fluid, and the rotor retaining screws. This is one of our best-selling products - unbeatable value in a convenient and discounted package! We also offer the factory BMW Performance, M Sport, and "CSL" brake upgrade kits using larger rotors and Brembo calipers. These are a great factory upgrade to stock brakes in performance and looks. We also recommend installing stainless steel brake lines for improved stopping performance during aggressive driving.
With our packages you don't need to bring your car to the dealer for expensive brake replacements. Our kit uses high quality components that meet or exceed the factory parts. We use OEM suppliers and performance alternatives to offer the same parts that the dealer does but at a substantial discount. And we've improved on the factory parts in many areas, such as braking performance, reducing dust residue, and braking feel.
Included in most of our brake packages:
Pads:
our equal or surpass the factory pads in performance, dust output, feel, and longevity
Rotors:
choose from OEM replacement rotors or Turner or StopTech performance upgrade rotors
Rotor Hardware:
small screws that hold the rotor in place when the wheel is off the car
Pad Wear Sensors:
these sensors warn you when pads are due for replacement. If your brake light is on in the dash, these sensors need to be replaced.
Brake Fluid:
choose from DOT4 performance brake fluid that surpasses OE standards - Ate DOT4, low-viscosity, or Motul high-performance fluid.


For accurate results, specify your model below.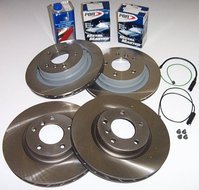 This brake package for the E36 M3 and MZ3 comes with everything you need to perform a major brake overhaul -
Front and rear
rotors
with hardware - quality aftermarket, OEM, Turner cross-drilled, Turner slotted, or Turner drilled and slotted
Front and rear brake
pads
- OEM organic, street performance, mixed track/street, or full race pads
Front and rear pad wear
sensors
Brake
fluid
- DOT4 street or DOT4 racing fluid
Our brake package uses the same replacement parts from the same manufacturers as BMW dealers use to service your car. The big difference is that we're able to offer these parts for a substantial savings from the dealer markup price. As an independent company we're able to buy our parts from multiple OEM suppliers whereas BMW dealers must buy their parts from BMW. We're able to shop from different vendors which gets you a better price while still maintaining original quality.
You don't have to pay high prices at the dealer to get the same quality and performance!
In some cases, we offer performance alternatives to the OEM items. For an enthusiastic BMW owner, the standard BMW part may be inadequate and we offer an upgraded part, based on our almost 20 years of BMW tuning experience. We seek out high quality suppliers and designs that we would want on our own vehicles. Many times performance parts will fix a design flaw with the original BMW part, improving your performance at the same time.
This item fits the following BMWs:
1995-1999
E36 BMW
M3
1998-2002
Z3 BMW
M Roadster, M Coupe
Packaged by Turner
Part #: E36M3BRAKEPACK
Ships on Mar 2, 2018
Free Shipping

E46 M3 CSL brakes fit the E36 M3 for a bolt-on size enhancement and more stopping power. The CSL rotors are a full 30mm (1.18") larger than the stock E36 M3 discs. The larger rotor puts out more braking torque and can handle more friction and heat than stock. With the special brackets these larger rotors are able to bolt-on to the E36 M3 hub using your original calipers and lines. Simply bolt them on using the new caliper bracket. The E36 M3 CSL upgrade is a moderate upgrade over stock compared to a StopTech or Brembo Big Brake Kit but has lower upfront cost, lower consumable cost (pads and rotors), and has a wide range of pad choices (any brake pad for an E36 M3 or E46 M3 will work).
We offer these brakes with three rotor choices -
Stoptech (Centric) CSL/ZCP Cross-Drilled and Floating
Original M3 CSL/ZCP Cross-Drilled and Floating
ECS 2-piece Cross Drilled and Slotted Floating (pictured)
With more braking torque, the brake bias is changed. For the street, you will notice more stopping power and more "bite" from the front brakes. You may not notice the front brakes are working harder. If you're using this kit on the track it will be more important to balance the brake bias using different front-rear pad compounds. The front brakes will be doing more work than before to slow the car down and you will need to balance that with a more aggressive pad on the rear. You may notice the front tires locking up sooner, especially in wet conditions. Contact us to discuss track pads for your situation.
Wheel fitment: 18" wheels are strongly recommended for brake clearance although some 17" wheels will work (if they clear a BBK they will work with these)

Part #: E36FCSLBRAKES
In Stock
Free Shipping