BMW E36 M3 Corsa Performance Exhaust Systems

CORSA is one of the largest automotive and high-end marine exhaust tuning companies in the USA with engineering and manufacturing facilities in Ohio and a patented, proprietary technology called Reflective Sound Cancellation™ (RSC, for short). CORSA consults to General Motors, Ford and Daimler-Chrysler and carries the title of "official licensed product" on its GM aftermarket exhaust systems.
The result of the CORSA's partnership and extensive research and development on the BMW 3 and 5 Series, is the new dronefree RSC™ exhaust system, delivering a pleasant sound at idle and cruise, and a muscular roar at high rpm. CORSA tuned this system specifically to counter drone. Sound pressure waves are reflected within the muffler case and unwanted noise frequencies are cancelled through patented Refective Sound Cancellation™ technology. Their straight-through design coupled with RSC™ noise cancellation technology allows them to tune out the undesirable low frequencies that cause droning, while reducing back pressure. A reduction in back pressure allows the engine to produce more horsepower and torque. The end result is a tuned muffler that produces the best sound and performance possible.

For accurate results, specify your model below.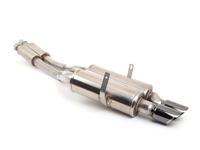 Aggressive, Throaty Sound
No Highway Drone!
Cat-Back Rear Muffler
Made in the USA
Lifetime Warranty
The Corsa RSC36 exhaust is just what you need to transform the exhaust sound on the E36 from subdued to animal style. The Corsa sport muffler manages to be raucous and aggressive but not obnoxious or out of character for the svelte E36. It's amazing that so much sound can come from just a rear muffler section but Corsa's straight-through design and Reflective Sound Cancellation (RSC) produce a throaty sound that still sounds good and with NO DRONE.
When driven aggressively it produces a throaty and charismatic exhaust note. It has plenty of burbles and pops that a performance exhaust should have and compliments other performance upgrades you may have on your car. But when driven lightly there's only a slight hint of sporty sound. It becomes a subdued version of its other self and completely livable on daily and highway trips without any droning. You can use it on a daily driver without it being annoying or intrusive and then let it off its leash for the weekend fun runs.
Reflective Sound-Cancellation (RSC) technology - This feature is a patented non-electrical noise control system, where engine sound (pressure) waves are reflected in passages inside the muffler 180 degrees out of phase to cancel out unwanted sound waves. The result is a tuned muffler that "cleans up" the noise without eliminating the pure sound of power associated with a high-performance vehicle. Using the Corsa technology, the stainless steel mufflers are tuned to eliminate passenger cabin resonance and produce just the "right" sound. The result is quieter cruising with an awe-inspiring roar at full throttle. This system is amazingly quiet during normal cruising, due to the "no drone" RSC technology, yet still has an aggressive presence and full sound while under throttle. This makes for ideal sound for those that want an aggressive "roar" while driving hard, yet still want a more discrete lower volume for normal cruising.
This is a cat-back system, which replaces the exhaust piping and muffler from the catalytic converter. It's very easy and straightforward to install and the rest of the exhaust can remain on the car. Detailed photographic instructions are included. This system is 100% Made in the USA and carries a lifetime warranty from the manufacturer. This exhaust is emissions legal in all 50 states (no effect whatsoever on emissions, and no "Check Engine" warning lights).
Sound Clips:

E36 M3
exterior driving, drive by

E36 M3
revving, take off

E36 M3
revving, take off, drive by
Exhaust Specs:
| | |
| --- | --- |
| section: | cat-back rear muffler |
| connects to: | stock cat section |
| tip style: | 3" dual round; stainless or black (polished) |
| material: | T304 stainless steel |
This item fits the following BMWs:
1992-1998
E36 BMW
325i 325is 325ic 328i 328is 328ic M3

Part #: COR14553X
Direct Ship