BMW E36 M3 Black Grills & Trim (incl Shadowline Trim)
Replacement black and carbon fiber kidney grilles and black shadowline grille and trim.
Chrome is so Seventies!!! These replacement front grilles eliminate the traditional (but dated) chrome BMW kidney / center grilles in favor of the stealthier look of matte black or carbon fiber. These shadow-style pieces feature factory-style clips and installation. Blackline grilles give your BMW a darker, more aggressive look without being over done. We offer these grills for a wide variety of BMWs, and use them on our own personal BMWs for that aggressive stealth look. They are made from impact resistant long life ABS polymer. These install in minutes, and cost less than the cost of a pair of new factory BMW grilles, making them simple and cost effective. Each kit includes both a left and right grille for your BMW, ready to install.

For accurate results, specify your model below.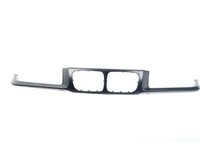 This is the Genuine BMW nose grill panel for E36 3 series from 1997-1999. This panel can be used to replace a damaged unit on 97-99 cars or to update the look of a pre-1997 car. (Updated grills required for 1992-1996 models).
This item fits the following BMWs:
1992-1996
E36 BMW
318i 318is 318ti 318ic 325i 325is 325ic 328i 328is 328ic M3 (New Grills are Required - see recommend items below)
1997-1999
E36 BMW
318i 318is 318ic 323is 323ic 328i 328is 328ic M3

Part #: 41338225981
Ships in 5 days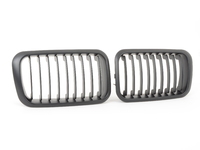 These direct replacement center grills update the front end of your 1992-1995 E36 to the same style as the later E36. These grilles have an outside edge and protruding grille ribs instead of the set-back grille of the early style. They are finished in matte black, eliminating the stock chrome kidney/center grilles, to give a darker, more aggressive look to your 1992-1996 3 series, including M3, 325i, 325is, 328i, 328is, 318i, 318is. Kit includes two blacked out grills with matte black finish.
Made from impact resistant long life ABS polymer, these grills are precision crafted for a perfect OEM fit. Unlike some competitors blacked-out grills which have a shiny finish that give off a cheap look and feel, these black grills feature a high quality matte finish reminiscent of genuine BMW parts.
This particular set of grills is for 1992 to 1996 3 series. They fit all E36 chassis model years 1992, 1993, 1994, 1995 and 1996 318i, 318is, 318ti, 325i, 325is, 328i, 328is, and M3

Part #: BME-1601-1011S
In Stock

Free Shipping
on orders $199 and up