BMW E36 M3 Bentley Repair / Service Manuals
Are you a Do-It-Yourselfer? Backyard mechanic? Tinkerer? Or a novice just starting out? Let the manual be your guide! We sell Bentley Service Manuals for most BMW models. They are widely regarded as the best source of how-tos, instructions, guidelines, and information on BMW repair procedures. You will find a wealth of useful information in these repair manuals that even an experienced home mechanic can use. A Bentley Repair Manual not only includes step-by-step guides but also data tables for filling quantities, tightening torques, Inspection I/II maintenance tables, wiring diagrams, and, of course, more. Bentley manuals cover all aspects of the car - General Data and Maintenance, Engine, Transmission, Suspension, Steering, Brakes, Body, Body Equipment, and the Electrical System. Having one of these manuals on hand can literally save you time and money.
For the E30 M3 we also sell the excellent Koala Motorsport CD-ROM Repair Manual. It's filled with information and tech procedures specific to the S14 engine and the E30 M3. The E30 Bentley Manual and the E30 M3 CD-ROM make an unbeatable service manual for the M3.

For accurate results, specify your model below.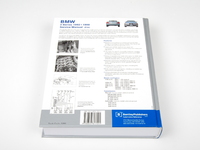 Order the BMW 3 Series (E36) Service Manual: 1992-1998 today! Bentley service manuals provide the highest level of clarity and completeness for all service and repair procedures. Enthusiasts, do-it-yourselfers, and professional technicians will appreciate the quality of photos and illustrations, theory of operation, and accurate step-by-step instructions. If you're looking for better understanding of your E36 BMW, look no further than Bentley. Covers all U.S. versions of the 318i, 323i, 325i, 328i, and M3! Maintenance procedures for everything from brake fluid changes to resetting the Service Indicator. This manual tells you what to do and how and when to do it. Information for specific BMW 3 Series driveability problems, including explanation of engine management systems and OBD (On-Board Diagnostics). Drivetrain maintenance, troubleshooting, adjustment and repair, including hydraulic clutch, gearshift linkage, and driveshaft. 756 pages and over 920 photos!

Part #: B398
In Stock

Free Shipping
on orders $199 and up