E36 M3 Differential Mounts and Upgrades

Rubber mounts are used to locate the differential to the subframe in RWD BMWs. This is one area that we like to focus on to improve power transfer, response time, and the overall feel of the drivetrain. By using a stiffer bushing you reduce or eliminate the 'wind up' and deflection of the stock rubber differential mounts when power is applied. A solid bushing will not twist when power (torque) is applied. Instead that power is directed to the drive wheels where it will do the most good. Our diff mount upgrades are solid rubber, Delrin, or aluminum kits depending on the application and the intended use. Even though these were developed for our race cars, we put them in a lot of street cars as well. The diff is not directly linked to the wheel and suspension so these are not as affected by bumps and road imperfections. Some additional drivetrain vibration may be felt through the chassis but in our experience it's very minimal. When installing one of our performance differentials make sure you also replace the mounts! And any subframe overhaul should also include solid diff mounts. There's no downside!

For accurate results, specify your model below.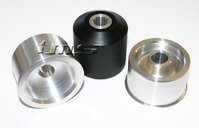 Changing out the stock rubber differential bushings for Delrin and aluminum will result in more feedback and better suspension performance. This kit will also help prevent the front diff bolt from loosening or shearing - a very common problem on E36 cars.

The Turner Motorsport solid diff bushings have spent years being tested in various racing series and have even been used extensively on street cars. These bushings are CNC machined from high-grade billet aluminum and Delrin and are a direct replacement for the stock rubber pieces. The rear two differential cover bushings are slotted to allow for BMW manufacturing tolerances. The kit includes 3 pieces: a Delrin front mount and 2 aluminum rear mounts. A new front diff bolt is recommended - add it from the drop-down box below.
This does NOT fit large case Evo M3 differentials.

Clickhere for installation instructions.

This item fits the following BMWs:
1992-1998 E36 BMW 318i 318is 318ic 323is 323ic 325i 325is 325ic 328i 328is 328ic M3
**NOTE:Not for Euro Spec M3's (3.2 liter)**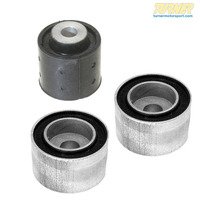 A set of replacement rubber mounts for the differential on BMW E36 cars, 1992-1999. Includes the front rubber mount (#33171134871) and the two rear mounts (#33171134872) in the cover (press fit to your existing cover). A new front bolt (#33176760337) is strongly recommended.
A set includes -
1 x 33 17 1 134 871, front diff mount
2 x 33 17 1 134 872, rear diff mounts
These diff mounts fit the following BMWs:
1992-1998
E36 BMW
318i 318is 318ic 323is 323ic 325i 325is 325ic 328i 328is 328ic M3
Note: not for E36 M3 Euro.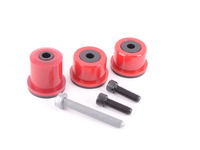 Urethane mounts keep the differential from twisting under load. As torque is put through the driveline it causes anything to twist and move. The differential is mounted to the subframe and the twisting and deflection can be transferred to the rest of the chassis. With a stiffer mount the differential will not deflect as much. This improves seat-of-the-pants feeling to the driver, giving more feedback for smoother power delivery. In theory, there's also more torque being sent to the drive wheels since it's not being used up shifting the diff weight around.
These are tough 88A durometer urethane bushings with a anodized almunum center sleeve, engineered by ECS. This is a set of E36 diff bushings - 1 for the front and 2 for the rear cover. New high-grade hardware is included (the front bolt has a tendency to snap from all that torque twisting!).