BMW E36 M3 Borla Performance Exhaust Systems

We've been big fans of Borla Exhaust for BMWs since we opened our doors in 1993. Borla produces some of the best-sounding, lightest, longest lasting exhausts on the market. These systems are made in the USA with true T-304 stainless steel inside and out and backed with a 1,000,000 mile warranty. Borla puts and emphasis on quality by using stainless steel throughout their piping and muffler bodies (not a mild steel or coated aluminum). This ensures the muffler does not deteriorate from the inside out. Borla designs their exhausts to complement a BMW's understated sportiness, not overpower it. Borla produces each system to have a deep, sporty tone that doesn't offend or intrude on the cabin. So you hear the exhaust when you want to, not all the time. Most Borla BMW exhausts are a true-cat back and bolt or clamp to the original catalytic converter for an easy install. Each system is engineered for the application and refined in their own sound lab - changing pipe sizing, layout, and incorporating mufflers and/or resonators as needed to achieve a sporty yet refined sound. Borla also produces full race exhausts for the committed enthusiast with cat-delete and test pipes.

For accurate results, specify your model below.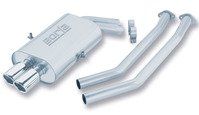 Section:
rear muffler (cat-back)
Installation:
bolt-on with flanges
Tip Style:
dual round 76mm Borla angle cut
Power Gain: +7hp
Our most popular E36 exhaust system for over 15 years! We love the Borla on the E36 because the sound is a nice mixture of throaty growl and subdued volume. It's not too loud but still more than the stock exhaust. The tone is a deep burble that lets you know it's a touch more aggressive than a stock M3 exhaust. It's perfect for a daily-driver performance car that doesn't want to advertise too much. There are other exhausts that never seem quiet but this one that you won't ever tire of.
Every Borla is made with 304 stainless steel for the internals and muffler body. Unlike other systems that can use coated aluminum, mild steel, or 409 stainless, the Borla uses true 304 stainless on the inside as well as the outside. This prevents the muffler from rusting and deteriorating from the inside out. Borla guarantees every muffler with a 1,000,000 mile warranty.


Click here for M3 Dyno Data.
This item fits the following BMWs:
1992-1999 E36 BMW 325i 325is 325ic 328i 328is 328ic M3

Part #: 14553
Price: $876.64 (USD)
$984.99
(Sale - Save 11%)
Direct Ship
Free Shipping