E36 Spark Plug Sockets
Changing the spark plugs at recommended intervals is part of servicing any BMW. Most BMWs came with spark plug tools in their factory toolkits, but over time those can become lost. No BMW owner's garage is complete without the spark plug service tools needed to perform this basic maintenance on their favorite car. Find the OEM BMW spark plug tools and other service toolkits on this page.

For accurate results, specify your model below.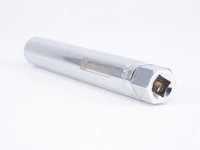 The Schwaben Extended Reach Spark Plug Socket is the perfect tool for removing 5/8-inch spark plugs with deeply recessed plugs.
The five inch long, rigid socket body provides solid engagement with the plug hex to prevent plug breakage.
Features:
Magnetic ring holds the spark plug but won't stick to the plug porcelain neck like sockets with cheap rubber inserts
Chrome plated with durable and attractive polished surface
Turn it with a 3/8-inch ratchet or a 19 mm (¾-inch) socket or box wrench at the external hex head
Outer diameter of socket is approximately 22mm

Part #: S-3858-125
In Stock

Free Shipping
on orders $199 and up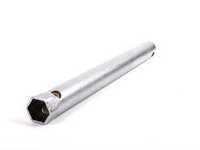 Missing a tool from your trunk mounted tool kit? Replace your missing SW16 spark plug wrench with this Genuine BMW part. Having a complete tool kit is handy for quick repairs or it can save you in case of roadside failures. Also a complete tool kitis must when selling a car. If the tool kit is missing parts, what else has been neglected on the car?
This item fits the following BMWs:
1992
E36 BMW
318i 318is 318ti 318ic 325i 325is 325ic
1995-1998
E36 BMW
M3 - Coupe / Convertible Only

Part #: 71111180680
Ships in 2 days

Free Shipping
on orders $199 and up