BMW E36 Oil Pan Baffles

Keeping the oil near the oil pump is crucial for the system to work correctly. Unfortunately, some BMW models suffer from oil starvation on the track. During cornering, G forces slosh the oil away from the oil pump pickup. Cornering for long periods of time (oval bankings, for instance) can starve the engine of enough oil to lead to catastrophic failure. We offer oil pan baffles that pool enough oil around the pickup that starvation is virtually eliminated. These kits are an absolute MUST for track-driven cars and have been developed and proven over our long motorsports history.

For accurate results, specify your model below.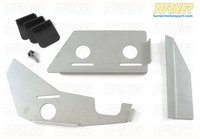 Through experimentation and data acquired from our E36 World Challenge Touring Cars, it was discovered that in long corners and under heavy braking that there was an oil starvation problem in the M50 and M52 engines. This system was developed to keep oil in the sump and eliminate the starvation problem. After several iterations, further testing and data acquisition in the Touring Cars showed that this system eliminates the problem of oil starvation. This is a less expensive alternative to replacing the stock oil pan with the factory BMW M3 Lightweight oil pan, while still achieving the similar results.
*Requires Professional Welding
Installation instructions (E36/Z3 Oil Pan Baffle for M50, M52, S50, S52 engines)
This item fits the following BMWs:
1992-1999 E36 BMW 323is 323ic 325i 325is 325ic 328i 328is 328ic M3
1992-1995 E34 BMW 525i
1997-1998 E39 BMW 528i
1997-1998 Z3 BMW Z3 2.8
1998-2000 Z3 BMW Z3 M Coupe M Roadster S52

Part #: TMS338997
In Stock

Free Shipping
on orders $199 and up