BMW E36 Turner Motorsport Racing Suspension Kits
Turner Motorsport got its start at BMW CCA and SCCA track events in the early 1990s. It was Will Turner's Club Racing championships that promoted the company as a leader in BMW performance tuning and motorsports. Suspension tuning was one of the things that cemented our repuation as BMW tuning professionals. Since our early years we have developed total package suspension upgrades that make the most of available technology and development. Our packages come from our racing programs over the years - E30 J-Stock, E36 ITS/World Challenge, E46 World Challenge/Grand-Am, and E9X M3 Grand-Am. In addition to complete packages we also over select individual components from our pro racing team. These are the same parts as used on our Touring Car and Grand Sport racing efforts with years of on-track developemt by our drivers - Bill Auberlen, Boris Said, Joey Hand, and Billy Johnson, among others. Our race wins and championships are testaments to the engineering and design put into every Turner racing part we offer.
For other individual components, be sure to check out the rest of our suspension page.

For accurate results, specify your model below.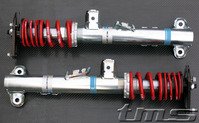 Developed by TMS for our own E36 racecars, this kit gives you everything you need to bolt on a winning suspension! Front Bilstein Group N coil over strutsare valved to our specifications and used with H&R race springs (Moton, double and triple-adjustable shocks are also available). TMS aluminum front camber plates and solid suspension bushings have also been developed by our race engineers to work with this kit. In the rear we use aBilstein Group N shock and an inboard 60mm H&R Race spring with a ride height-adjustable spring perch. Turner Motorsport swaybars are recommended for use in the front and the rear. This is a professionally developed kit that puts you in a winningcar from turn one. The suspensions we put together are complete and ready-to-race and have had every component planned out and designed to work withtogether.
Stage1 Basic Group N Suspension – shocks, springs
p/n E36GPNSUSPENSION
$2062.30
Includes: Bilstein Group N coil over front struts (pictured above), Group N rearshocks (non coil-over), 60mm H&R racing springs, rear height adjusters,spring hardware and seats
Suggested add-ons: camber plates, shock mounts, sway bar / swaybars, reinforcements, rear camberarms
Stage2 Bolt-In Group N Suspension – shocks, springs, mounts, camber plates
p/n TSU36GPN-2
$2582.20
Includes: Bilstein Group N coil over front struts (pictured above), Group N rearshocks (non coil-over), 60mm H&R racing springs, Turner front camber plates,Turner solid bearing rear shock mounts, rear height adjusters, spring hardware and seats
Suggested add-ons: sway bar / swaybars, reinforcements, rear camber arms
ReinforcementPackage
p/n T36REINF
$additional, see Options below
Includes reinforcements for: front subframe, front strut towers (requires modificationwith camber plates), rear sway bar / swaybar tabs, rear shock towers, rear subframe (notneeded for M3 chassis)
AluminumMount Package
p/n T36MOUNT
$1150.70 additional
Includes: aluminum engine and transmission mounts, Delrin front control arm bushings,aluminum rear trailing arm bushings (RTABs), aluminum inner trailing armbushings, Delrin and aluminum differential mounts, aluminum subframe mounts
Othersuggestions –
Moton Motorsport shocks
aluminum front control arms
adjustable sway bar / swaybar links
BMW x-brace
Becauseof the complexity and wide range of options for this suspension the cost willvary. Items are also available for purchase separately. Call or e-mail for themost accurate pricing specific to your needs.
Part #: E36TMSWC

Free Shipping
on orders $200 and up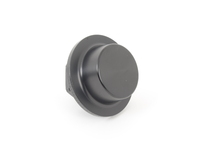 H&R makes it easy to adjust the rear ride height on cars with 60mm ID springs (road racing springs, H&R coil over springs -- not stock springs or any sport spring). These lower spring perches fit below the spring on the rear control arm. Adjustment is made by unbolting the shock to all the spring to move freely, then turning the spring perch to raise or lower the ride height.
Sold Individually.
For more information on H&R height adjusters and coil overs,
click here
.
This item fits the following BMWs:
1992-1998
E36 BMW
318i 318is 318ic 323is 323ic 325i 325is 325ic 328i 328is 328ic M3
Part #: HR92-K-X006A03

Free Shipping
on orders $200 and up