BMW E38 Water Pumps
When maintained, your BMW's cooling system should be bulletproof. The weakest link on any BMW model is likely to be the water pump, thermostat, or electrical parts on the newer models. BMW water pumps have gone through many design and material changes over the years in an effort to make the cooling system more efficient and reduce parasitic drag on the engine. The water pumps we sell are the latest and best designs that BMW and OEM suppliers can produce. Whenever possible we prefer to sell a water pump with a composite impeller, not metal. The latest BMW designs use a composite impeller that is far lighter than metal and much stronger than plastic. Metal impeller pumps are typically heavier and may have bearing problems that lead to premature leaks. Plastic pumps were infamous in the mid-1990s for disintegrating. The composite impellers have proven themselves for over a decade as a trouble-free and efficient design and many of the OEM suppliers are also introducing updated composite designs for older models too.
For accurate results, specify your model below.

Don't take your car's cooling system for granted!One of the biggest weak points is the cooling system. Replacing your water pump will go a long way for keeping your car on the road and operating properly. This water pump fits BMW 1999-2001 E38 740i/740iL, 1999-2003 E39 540i, 1999-2003 E53 X5 4.4i and 4.6is with M62TU 4.4L (4.6L for the 4.6is) engine.
Choose from a water pump with a metal or composite impeller.
This water pump comes complete with housing profile gasket and o-rings.
This item fits the following BMWs:
1999-2003
E39 BMW
540i 540i touring
1999-2001
E38 BMW
740i 740il
2000-2003
E53 BMW
X5 4.4i X5 4.6is
2000-2003
E52 BMW
Z8 Alpina
Part #: 11510393336DK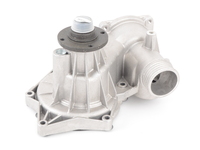 This water pump is used on the BMW M60 4.0 liter V8 engine in the E38 7 series and E31 8 series. Made by Saleri an OEM supplier to BMW.Includes gaskets and seals.
This item fits the following BMWs:
1995-1996
E38 BMW
740i 740il
1992-1996
E31 BMW
840i 840ci
Part #: 11510007043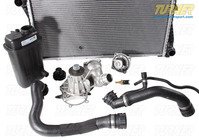 This is a compete cooling system overhaul kit, which includes all the common cooling system failure parts bundled into a complete package. This cooling system package is for the 1999-2003 540i with the M62TU VAN0S 4.4-liter engine. This package applies to cars equipped with either the manual or automatic transmission (select the appropriate parts in the menu below).
A failure in the cooling system can lead to overheating and catastrophic engine failure. Don't gamble your engine! By replacing these core items preventatively, such as the thermostat housing, radiator, and waterpump, you are defusing what could be a ticking cooling system time bomb. And if you've had a failure of one of these parts, now is the time to refresh your entire cooling system. Our bundled package includes the following:
OEM Behr radiator (select for manual or automatic transmission)
OEM water pump (choose either the metal or composite impeller)
OE BMW coolant temp sensor (located in the water pump housing)
OEM Behr thermostat with housing and sensor
OEM Behr expansion tank with cap
OE BMW upper and lower radiator hoses with expansion tank hose
Optional items (which can be added below):
- OE BMW antifreeze
- Add a new coolant level sensor (known for failing / throwing "check coolant" messages)
- Replace the heat exchanger coolant lines for the automatic transmission
- Add a new fan clutch

Buy as a package and save $$$!

This cooling system overhaul kit fits the following BMWs:
1999-2003 E39 BMW 540i
1999-2001 E38 BMW 740i 740il

Part #: TMS14417