BMW E39 M5 Water Pumps

When maintained, your BMW's cooling system should be bulletproof. The weakest link on any BMW model is likely to be the water pump, thermostat, or electrical parts on the newer models. BMW water pumps have gone through many design and material changes over the years in an effort to make the cooling system more efficient and reduce parasitic drag on the engine. The water pumps we sell are the latest and best designs that BMW and OEM suppliers can produce. Whenever possible we prefer to sell a water pump with a composite impeller, not metal. The latest BMW designs use a composite impeller that is far lighter than metal and much stronger than plastic. Metal impeller pumps are typically heavier and may have bearing problems that lead to premature leaks. Plastic pumps were infamous in the mid-1990s for disintegrating. The composite impellers have proven themselves for over a decade as a trouble-free and efficient design and many of the OEM suppliers are also introducing updated composite designs for older models too.

For accurate results, specify your model below.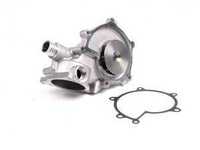 This water pump (11511407113) and gasket (11511406765) is a direct replacement for your stock pump. We offer this from the OEM supplier Laso and is Made in Germany to BMW's precise standards. This water pump comes with a new gasket to finish off the install. The thermostat is also located in the water pump housing so you may also want to consider replacing that at the same time.
This item fits the following BMWs:
1999-2003
E39 BMW
M5
2000-2003
E52 BMW
Z8 Roadster (not Alpina Roadster)
Part #: TMS12990
In Stock
Free Shipping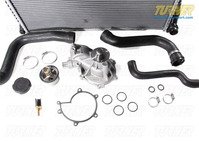 This is a compete cooling system overhaul kit, which includes all the common cooling system failure parts bundled into a complete package. This cooling system package is for the 1999-2003 E39 M5 with the S62 engine.
A failure in the cooling system can lead to overheating and catastrophic engine failure. Don't gamble your engine! By replacing these core items preventatively, such as the thermostat housing, radiator, and waterpump, you are defusing what could be a ticking cooling system time bomb. And if you've had a failure of one of these parts, now is the time to refresh your entire cooling system. Keep on top of the cooling needs of your engine for your own piece of mind. Potential buyers also see the upside of a properly maintained car with receipts. Our bundled package includes the following:
OEM Behr radiator
OEM Laso or OE BMW water pump with gasket
OE BMW coolant temp sensor (located in the water pump housing)
OEM Behr thermostat with o-ring
OE BMW o-rings for the inner coolant tubes
OE BMW expansion tank cap
OE BMW upper and lower radiator hoses with OE-style clamps
OE BMW expansion tank hose with OE-style clamps
Optional items (which can be added below):
- OE BMW antifreeze
- Add a new coolant level sensor (known for failing / throwing "check coolant" messages)
- Add a new plastic expansion tank (if it's never been changed it's a risk of a crack or leak)
- Add a new fan clutch

Buy as a package and save $$$!

This cooling system overhaul kit fits the following BMWs:
1999-2003 E39 BMW M5

Packaged by Turner
Part #: TMS14418
Ships in 2 days
Free Shipping