E39 M5 D Force Flow Formed Alloy Wheels
D-Force Wheels has been one of the leading innovators in flow-formed alloy wheels for the BMW market. These wheels use a special manufacturing process that is a cross between forging and casting. Flow-forming is a process that results in a stronger wheel than the traditional casting process and less weight than a traditional forged wheel. Many high-quality and OEM wheel manufacturers are moving to this flow forming process. D-Force first gained credibility and fame with BMW CCA Club Racers throughout North America. A light weight, strong, and affordable race wheel proved to be a winning combination. D-Force Wheels are available in two distinct styles: LTW5 - light weight 5-spoke in 17" and 18" sizes and EmPower - light weight multi-spoke 'mesh' style wheel in an 18" size. For wheel information in general,
check out our Wheel Tech Guide by clicking here.
| | |
| --- | --- |
| | |
| LTW5 | EmPower |

For accurate results, specify your model below.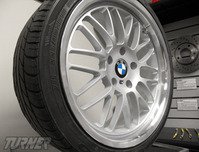 Great looking mesh-style wheels for the 1997-2003 E39 5-series, including M5. These wheels are a direct fit for E39 with the correct center bore, size, and offset. Available in either silver/machined lip or anthracite/machined lip. Optional extras are a new set of BMW wheel caps, "///M" wheel emblems, and new wheel bolts (black or silver, standard size).
Using a proprietary "Flow Forming" casting technology which includes heat treating, this wheel offers less mass / light weight without sacrificing strength. The 18x8.5" weighs in at just over 19 lbs, and the 18x9.5" weighs in at 20.9 lbs. This is an exceptional combination of price, looks, weight, and strength that you will be hard pressed to find anywhere else.
Wheel Specs:
Front:
18x8.5, ET15, 74.1CB, 19lbs. Recommended tire size is a 225/40 or 235/35 - 255/35 tire.
Rear:
18x9.5, ET25, 74.1CB, 21lbs. Recommended tire size is 255/35 - 275/35.
Tire sizes are listed as a rough guide. Tire selection should be based on BMW model, and will depend on your BMW's suspension and available clearance. Careful consideration of wheel width and offset must be taken when choosing and installing wider and/or taller wheels. Adding larger wheels may lead to rubbing on suspension components or bodywork. Wheel spacers or other adjustments may be required.
Applications:
1997-2003
E39 5-series
- 525i, 528i, 530i, 540i, M5
Part #: E39-EMP18
Direct Ship