BMW E39 M5 Rod Bearings

Rod bearings continue to be a sore subject among M3, M5, and M6 owners. The rod bearings in the S54 I6, S85 V10, and S65 V8 have been known to fail within 60,000 miles. There could be a number of reasons for premature failure with a lot of finger-pointing as to the real cause. Whatever the reason, rod bearings are wearing out sooner than expected and their replacement should be considered a required preventative maintenance item. We suggest a replacement interval of between 60,000-80,000 miles with frequent engine oil analysis done along the way. Driving moderately and allowing the engine to warm up before hard use will also extend rod bearing life. Our rod bearings and overhaul kits are developed with input from our own service department and we offer everything needed to replace the bearings. In most cases removing the subframe, and supporting the engine from above, is the best method to access the bearings. Professional installation or previous experience is very strongly recommended.

For accurate results, specify your model below.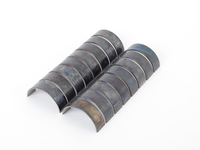 These WPC-treated bearings are the best we have seen for the S85. WPC is a shot-peening treatment at a microscopic level. It's perfect for sensitive surfaces like bearings. The WPC treatment removes imperfections and high spots, while creating a surface that retains oil better than the original surface. This greatly reduces friction. The bearings in this kit are factory BMW bearings that are sent to WPC for treatment. The treated bearings are stronger with less metal fatigue and less friction than buying off-the-shelf bearings from the dealer.
Price is for a complete set of S62 upgraded rod bearings.

Part #: 11241407493WPCKT
In Stock
Free Shipping