BMW E39 M5 Performance Headers & Downpipes

Headers are a bolt-on component that will make a huge improvement in how your BMW performs. As a replacement for your factory BMW exhaust manifold, our BMW headers provide a more direct path for exhaust gasses leaving your engine. Headers prevent your BMW's exhaust pulses from "fighting" one another as they leave the head. The end result is that BMW headers give you more power and torque, and you'll love the high-winding top end push that a free-breathing engine exhibits. BMW headers are a must-have if you're doing any engine modifications on your vehicle. Along with a cold air intake, BMW headers provide the free-flowing exhaust necessary to get the most power out of your motor.

For accurate results, specify your model below.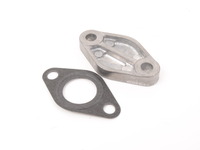 Deleting the secondary air pump from your exhaust? This plate is the perfect touch! The air pump (also known as EGR system) has proven to be a headache for many BMW owners and it's one of the first things to go when building a racecar. The air pump is not required in many racing classes and deleting it saves some weight, complexity, and won't interfere with the rest of the exhaust or engine management system (deleting the air pump will require special programming in the ECU, a simulator, or a stand-alone engine management system). When removing the air pump valve from the head the port is left open that needs to be blocked off. That's where this little plate comes in. This is actually a factory BMW part and includes a new steel gasket to the head. It will slide over the existing studs and secure with the existing nuts.
This item fits the following BMWs:
1999-2006
E46 BMW
323i 323ci 325i 325ci 325xi 328i 328ci 330i 330ci 330xi M3
1999-2003
E39 BMW
525i 528i 530i 540i M5
1999-2002
Z3 BMW
Z3 2.3 Z3 2.5i Z3 2.8 Z3 3.0i M Roadster M Coupe
2003-2008
E85 BMW
Z4 2.5i Z4 3.0i Z4 3.0si Z4 M Roadster M Coupe

Part #: TMS211091
Ships in 2 Days

Free Shipping
on orders $199 and up
Free ground shipping!
The stock exhaust manifolds on the 540i and M5 models are an easy target for making more power and torque. They are efficiently designed for mass production and not tuned expressly for making power. And on later models the primary catalytic converters are embedded in the stock manifolds for emissions purposes. The Supersprint headers are a direct fit to all 1997-2003 E39 540i and M5 models and their tubular design with merge collectors have been proven to make significant horsepower and torque gains. With the full header and sport cat setup we measured 30hp at the wheels on a stock M5! And the fitment and quality of the Supersprint headers is second to none.

Supersprint exhaust is widely recognized as the leader in complete exhaust system upgrades - extremely high quality, well designed for optimal flow, and amazing sound. Even at a premium price Supersprint is an unbeatable exhaust design because every aspect is done to such a high level. Most Supersprint systems are built with larger diameter piping to improve exhaust flow which helps the engine do less work and make more horsepower! Supersprint exhausts generally run at a premium over other systems but no other system on the market can match their quality, performance, or reputation!

Section 1 / Catalytic Converter Options
You have a few different options for the exhaust immediately after the headers (known as 'section 1'):
connecting pipes to stock section 1 cats*
Supersprint section 1 metallic sport cats**
Supersprint section 1 test pipes (no cats)**
* - 1999-2003 540i models will need to have the rear O2 sensors extended to the new location of the cats.
** - these layouts are sold expressly for race or on-track use only. Special software may be required to prevent fault codes and other conditions.

Header Details
section:headers
connects to:stock catalytic converters (with adapter) or Supersprint race catalytic converters.
material:T304 stainless steel
dyno:click here for M5 dyno chart
This part alters or deletes the emissions equipment on your car. Because of this, we require a waiver of emissions compliance to be signed and sent in to Turner Motorsport. You can download the waiver here.

This item fits the following BMWs:
1997-2003 E39 BMW 540i M5

Part #: 786801
Ships on Mar 14, 2018
Free Shipping