BMW E39 M5 H&R Performance Springs

H&R has been the leader in German-made performance springs since the 1970s. Lowering springs are not just about the looks and stance. Lowering the center of gravity, reducing bodyroll, and stiffening the suspension all lead to better handling on the road and the racetrack. H&R engineers spring sets for a number of different driving situations but most of all they are set up for street use. H&R springs lower the ride height and stiffen the spring rate with the goal of delivering flatter cornering and better handling balance on the road without hurting ride quality. We think the H&R ride quality is perfect for street use - not overly stiff for every day use but stiff enough that it makes a significant improvement (unlike other 'sport' springs on the market). And every H&R sport spring set is designed with TUV approval so that it functions just like a stock spring but with added performance benefits.
Turner Motorsport has branched out for non-BMW applications too! See our partner site
Allsprings.com for springs, coil overs, spacers, and other chassis upgrades for non-BMW applications.

For accurate results, specify your model below.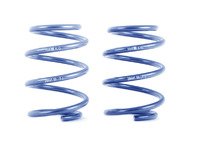 This is a front spring set only!
Lowers the front of the car 1.0".H&R engineers made extensive tests to match these springs to the original E39 M5 shock absorbers – the result is an ideal compromise between aesthetics (a better visual "stance") and a sporty handling (stiffer, but still comfortable ride.) Includes 2 front replacement springs to be used with the factory BMW E39 M5 shock absorbers.
This item fits the following BMWs:
1999-2003
E39 BMW
M5

Part #: 29441
Direct Ship
Free Shipping