BMW E39 M5 Engine Performance Packages

Since 1993 Turner Motorsport has been at the forefront of performance tuning for BMWs. We show this best in our tuned Performance Packages, developed along stages for specific BMW models. Each staged Package is tuned in-house, bringing together expertise from our street tuning division, service shop, and race team. Nearly all of our Packages feature custom-tuned performance software from the best names in the business. The software is the best feature in our kits, maximizing power gains while doing nothing to affect engine reliability or driveability. In most cases, Stages are upgradeable - you can jump from one stage to another by purchasing the new parts and revised software (contact us directly about buying parts outside of the Stage). Or jump right into a higher stage by purchasing the complete kit. We'll work with you to select the appropriate parts and a matching software tune. Nearly all of our Packages have been tested and tuned on our in-house Dynapack Chassis Dyno. Our packages are designed for US-spec models only.

For accurate results, specify your model below.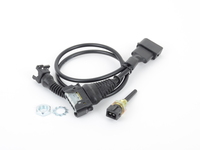 If you've ever noticed your car feeling a bit sluggish after a few laps around the track, some hard driving, or even sitting in traffic on a hot day you may have been a victim of power loss due to heat soak. All vehicles will lose some degree of performance due to heat soak under the right operating conditions. The engine management system is constantly monitoring operating conditions and modifying parameters based on sensor inputs. The problem is that BMW integrated the intake air temp sensor in the MAF housing, and often the MAF is sandwiched behind a hot radiator and in some applications next to an even hotter valve cover. This is fine for overall simplicity and cost of the original engine management system, but less than ideal for optimal performance. The MAF housing absorbs the excess heat from its surroundings and can't shed it fast enough, and the ECU reads a falsely high intake air temperature. It then incorrectly adjusts operating parameters to compensate for the false hot air measurement (pulling timing and running a leaner fuel mixture), and torque output drops like a rock.
The fix? Locate an intake air temp sensor in a location where it can more accurately measure incoming air temps and where it is less prone to heat soak. By mounting a sensor further away from the heat source and divorcing it from the mass of the MAF housing, it can both resist the effects of heat soak longer and respond to temperature changes more quickly. The end result? You'll experience reduced loss in torque and more consistent power output when you're pushing your engine hard.
The Turner engineering team was initially skeptical of the claimed performance benefits of this modification. We set out to first validate the functionality and performance benefit of a temp sensor relocation. We set out to replicate stop-and-go traffic heat soak in a 2001 540i in a controlled environment - our dynamometer. Four runs were performed with the dyno's cooling fans turned off to simulate heat soak like being stuck in traffic or low speeds, then the fans were turned on for three more runs to observe the recovery rate once air flow was reintroduced. This was done in stock configuration and then repeated with our sensor relocation kit.
Result? We recovered 11lb-ft torque at 2500rpm by relocating the temperature sensor! This is a difference that can be felt behind the wheel - owners of M5s can expect an even larger recovery. Here are the heat soak-related torque losses we experienced:
Stock IAT location Torque loss:
18rwtq at 2500rpm
10rwtq at 3000rpm
9rwtq at 3700rpm
Turner IAT Relocation Torque loss:
7rwtq at 2500rpm
5rwtq at 3000rpm
5rwtq at 3700rpm
Other "kits" on the market require you to cut and splice into your factory wiring harness. The Turner engineering team designed a complete plug and play kit that makes for quick, easy, and reversible installation. Original equipment weather-sealed connectors offer long term reliability, while sheathed wiring offers a clean appearance - you'll quickly forget it's under the hood. We found that different applications called for slightly different sensor positioning and cable routing, so our harness is nearly 3 feet long - long enough to provide flexibility in positioning, but not too long that you're left with unsightly excess wiring. We recommend positioning the sensor in a location away from engine heat, but still within the intake ducting (we found the far side of the airbox base to be a good home). Installation is as simple as drilling a small hole for the sensor and plugging in the harness.
We include everything you need to relocate your IAT - just select your desired sensor brand below (we recommend Beru).
Also the perfect plug-n-play option for anyone looking to upgrade their intake to utilize an Alpha-N tune!
Turner IAT Relocation Kit fits the following BMWs:
1999-2001 E38 BMW 740i 740il
1999-2003 E39 BMW 540i M5*
2006-2010 E6X BMW M5 M6*
2000-2003 E53 BMW X5 4.4i 4.6is
2001-2006 E46 BMW M3
2001-2002 MZ3 BMW M Coupe M Roadster
2006-2008 MZ4 BMW M Coupe M Roadster
*Despite the M5 having two MAF, temperature is only detected on the passenger side MAF, and therefore only one relocation is required.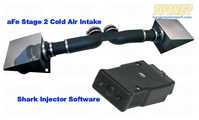 1999-2003 E39 M5 Stage 1 Performance Package
Peak Power Gain:
+18hp / +20ft-lbs
Rev limit:
7400
Octane:
91
or higher
Our Stage 1 kit featuring a cold-air intake kit and performance software. The aFE intake is made from high-quality materials, reducing underhood temperatures and not contributing to heat soak of the air filter. aFe's Stage 2 Intake uses an oiled cotton air filter for maximum air flow and excellent filtration. The kit is supplied complete with heat shield, ABS plastic intake tube, sealing materials, hardware, and install instructions.
The software is tuned by BMW tuning whiz Jim Conforti and supplied with the Shark Injector. The Shark Injector is a do-it-yourself reflash tool that plugs into the OBD diagnostic plug in your dash. With the push of a button, it will copy your stock software and reflash your computer with the performance tune. You can set it back to stock at any time by following the same procedure.
Both of these items work together to bring up huge torque increases and much improved driveability. They provide a solid performance boost with a low upfront cost. For an excellent 'bang for the buck' upgrade, the software and intake are a great choice.
1999-2003 E39 M5 Stage 1 Engine Upgrade includes:
aFe Cold Air Intake
Shark Injector performance software
Applications:
1999-2003 E39 M5 sedan
Part #: TMS2916
Free Shipping