BMW E39 Camshafts

Many times you can boost your mid-high end power with factory BMW parts such as these stock BMW camshafts. In some cases you can bolt these alternate cams into your engine for an instant power boost. BMW itself offered performance cams in some models. We offer upgrades using S50 / S52 cams, ZHP cams, and others that meet factory OE specs.

For accurate results, specify your model below.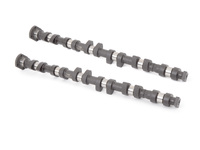 For the US E36 M3. Schrick 264/256 degree camshafts boost mid-high end power for that extra motivation at higher rpm. Low-end torque is not seriously affected due to the M50/M52s VAN0S System. And, higher profile cams work extremely well with an upgraded intake and exhaust. When upgrading the cams there are other areas you must take into consideration. Higher-flow fuel injectors, larger mass-air sensor, and custom programming are strongly recommended. Turner Motorsport sells complete intake & cam packages that boost power to over 290hp. See the Engine section under Camshafts for more info.
Cam Specs:
Intake - 264 degree, 11.2mm lift
Exhaust - 256 degree, 10.6mm lift

Schrick Technical Information / Specs

This item fits the following BMWs:
1993-1998 E36 BMW 325i 325is 325ic 328i 328is 328ic M3
1993-1995 E34 BMW 525i
1997-1998 Z3 BMW Z3 2.8
1998-1999 Z3 BMW M Roadster M Coupe

Part #: TMS3859
In Stock
Free Shipping
These Schrick camshafts are the same specs as the stock US S50 cams -
Intake: 252 degree, 10.2mm lift
Exhaust: 244 degree, 9.5mm lift
With original S50/S52 cams in short supply, and a new set running over $2,000 from BMW, you can source new M3-spec cams from Schrick. These are the same specs as the US S50 engine and very close to the stock S52 cams. These make a great upgrade for M50 (325i, 525i) and M52 engines (328i, 528i) with the proper tuning. These bolt in just like the stock and M3 cams with no special hardware upgrades required - use your stock valve springs, lifters, etc. But for reliability we recommend replacing the lifters, valve springs, and retainers with new stock parts on high mileage engines.
Full cam specs:
Schrick Technical Information / Specs
This item fits the following BMWs:
1993-1999
E36 BMW
325i 325is 325ic 328i 328is 328ic M3
1993-1995
E34 BMW
525i
1997-1998
E39 BMW
528i
1997-1998
Z3 BMW
Z3 2.8
1998-1999
Z3 BMW
M Roadster M Coupe

Part #: TMS21521
Ships on Jun 25, 2018
Free Shipping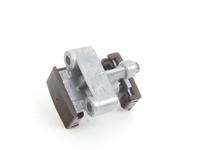 This is an OEM INA Timing Chain Tensioner. Keeping pressure on the timing chain, this keeps the chain from slipping teeth and causing the timing to be off, potentially leading to engine damage.
OEM Schaeffler (INA, LuK, & FAG) is an engineering company that focuses on high-performance, precision manufacturing. With their individual brands INA, Luk, and FAG providing exceptionally high quality parts directly to BMW, as well as countless other automotive companies, their history of reliability and variety of offered parts makes Schaeffler a go-to replacement parts provider for all of us here at Turner Motorsport.
As a leading source of high performance BMW parts and accessories since 1993, we at Turner Motorsport are honored to be the go-to supplier for tens of thousands of enthusiasts the world over. With over two decades of parts, service, and racing experience under our belt, we provide only quality performance and replacement parts. All of our performance parts are those we would (and do!) install and run on our own cars, as well as replacement parts that are Genuine BMW or from OEM manufacturers. We only offer parts we know you can trust to perform!

Part #: 11311435026
Ships in 7 days

Free Shipping
on orders $99 and up