BMW E39 Brake Pad Sensors

BMWs are built with a wear indicator for the front and rear brake pads. When the pad wears to a certain point, the metal of the brake rotor will contact the sensor and trip the [BRAKE] light on your dash. This is an indication that your pads are low and need to be replacement soon. It's impossible to know exactly how many miles are left so have a shop inspect the pads and make recommendations for additional brake work to have done. Remember that if the dash light comes on then the sensor needs to be replaced in addition to the pads. Most BMWs have one sensor in the front (left-front) and one in the rear (right rear) since pads are replaced in axle sets only.

For accurate results, specify your model below.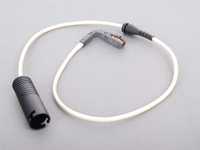 E39 Rear Brake Pad Sensor. Only one required for rear brakes. Does not fit touring (wagon.)
This REAR brake pad wear sensor fits the following BMWs:
1997-2000
E39 sedan
- 528i, 540i (no wagons)
2001-2003
E39 sedan
- 525i, 530i, 540i (no wagons)
2000-2003
E39 M5
sedan

Part #: 34351163066

Free Shipping
on orders $199 and up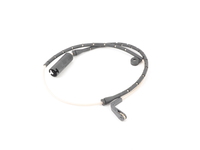 E39 Front Brake Pad Sensor. Only one required for front brakes.
This FRONT brake pad wear sensor fits the following BMWs:
1997-2000
E39 5 Series
528i & 540i (sedan, wagon)
2001-2003
E39 5 Series
525i, 530i, 540i (sedan & wagon)
2000-2003
E39 M5
sedan
Part #: 34352229018