BMW E39 Oil Coolers & Oil Cooler Parts

The condition and state of your oil can make or break your day at the track. Oil is working best during a certain temperature range and when exceeded the protective properties of oil will break down. This is especially critical with older, dirty oil. Newer cars with high underhood temperatures are even more at risk. Aside from frequent oil changes and more capacity the best way to keep healthy oil flowing through your engine vitals is with an oil cooler. We offer track-developed oil cooler kits and other accessories aimed at reducing oil temps or making your current setup work safely and more efficiently. An oil cooler will not make your car faster or handle better. It's simply excellent preventative action to avoid costly troubles in the future.

For accurate results, specify your model below.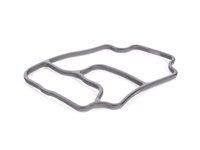 This is the replacement for the troublesome oil filter profile gasket on the M50, S50US, M52, S52, M52TU, M54, and S54 engines. The housing is separate from the engine block and in between there is this small profile gasket. The gasket shrinks over time which allows oil to seep out. In our own service shop, it's one of the most common service jobs we perform.
One of the other common leak points is the VAN0S oil line and its seals. Since the line comes out with the oil filter housing anyway you might as well replace the line itself or at least the seals.
On S54 engines (E46 M3, MZ3, Z4 M) there is a flanged head bolt going into the cylinder head, behind the thermostat cover. This holds the left side timing chain guide rail in place and if it's loose or falls out you could have a very serious engine failure to deal with. Make sure to check this bolt while you're replacing the oil filter housing seal. You only need to make sure it's tight. But if it's come loose you may want to replace the seal ring and use a small touch of oil-resistant thread sealer.
This item fits the following BMWs:
1992-1999
E36 BMW
323is 323ic 325i 325is 325ic 328i 328is 328ic M3
1999-2006
E46 BMW
323i 323ci 325i 325ci 325xi 328i 328ci 330i 330ci 330xi M3
1991-1995
E34 BMW
525i
1997-2003
E39 BMW
525i 528i 530i
2004-2005
E60 BMW
525i 525xi 530i 530xi
2004-2005
E83 BMW
X3 2.5i X3 3.0i
2000-2006
E53 BMW
X5 3.0i
1997-2002
Z3 BMW
Z3 2.3 Z3 2.5i Z3 2.8 Z3 3.0i M Roadster M Coupe
2003-2005
E85 BMW
Z4 2.5i Z4 3.0i
2006-2008
E85 BMW
Z4 M Roadster M Coupe

Part #: 11421719855
In Stock

Free Shipping
on orders $199 and up
MUST HAVE THE CSF/RK RADIATOR IN ORDER TO MOUNT THE OIL COOLER
CSF's newly designed high-performance, race-spec oil cooler will keep oil temperatures stable, even in the most demanding endurance racing conditions and extreme ambient temperatures. This new CSF E39 M5 oil cooler has been lab tested in an ISO-certified, state-of-the-art cooling system testing facility that includes wind tunnel, vibration, thermal cycle, burst pressure, and salt spray corrosion testing for maximum performance and reliability. Because of CSF's global economies of scale, the CSF Racing & High-Performance Division delivers a premium oil cooling solution with a level of quality, performance, and craftsmanship that is usually found in products with a much higher price point.

Construction and Core: CSF has manufactured the world's most durable and robust E39 M5 oil cooler by using an innovate design that features extruded aluminum end tanks rather than fabricated aluminum sheet metal, plus a bar-and-plate oil cooling core. The core uses an ultra-efficient, multi-louvered, high-density fin configuration between high-pressure oil cooling plates to achieve maximum heat transfer performance and oil cooling efficiency. With this type of construction you never have to worry about road debris damaging the core or causing a leak in the oil cooler.

Two-Pass Design: CSF's new E39 M5 oil cooler features an efficient top/bottom dual-pass design which is comparable in performance to a counter-flow design (front/back), without the much more costly manufacturing and purchase price.
Thermostat: There is a direct-fit thermostat inline with the system to bypass the oil until the oil is up to temperature.
Mounting: This production-manufactured high-performance oil cooler utilizes four mounting tabs which bolts onto your CSF/RK radiator.
Plumbing: This is a direct-fit oil cooler for use with existing OEM lines using our custom fittings and -10AN lines.
This part fits the following BMWs:
2000-2006 E36 M5

Part #: E39OC
Direct Ship