BMW E46 M3 Thermostats

BMW thermostats. Don't take chances! Proper maintenance is required to keep your car performing at peak levels. The thermostat basically controls when your car will overheat. Don't let it fail on you. We carry both OEM BMW thermostats and low temp aftermarket BMW thermostats for use in hot climates or track/race use

For accurate results, specify your model below.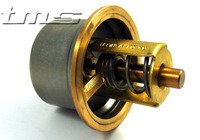 E46M3 Motorsport Thermostat 55C (Also fits Euro E36 M3 engine) A Genuine BMW part this thermostat opens at a much lower temperature than stock to keep your S54 engine (or Euro S50/S52 engine) running cooler in race applications.

Part #: 11531417215
Ships on Apr 5, 2018

Free Shipping
on orders $199 and up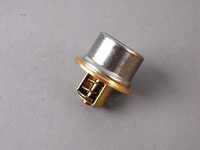 GENUINE BMW THERMOSTAT - E46 M3, MZ3 (S54), MZ4. This is just the thermostat itself and does not include the housing o-ring or any others that are advised for replacement. See thermostat kit or our water pump kit for a complete package.
When doing any sort of repair or maintenance there is no replacement for genuine factory parts. Turner Motorsport carries the Genuine BMW brand with pride and has the parts you need to complete your next project with confidence.

Part #: 11531318274
In Stock

Free Shipping
on orders $199 and up
Replacement stock thermostat for E46 M3, Z3M w S54 engine, Z4M.The thermostat can be replaced on the E46 M3 without removing the water pump. This can save you money if the pump still has life left on it but the thermostat needs to be done now. Symptoms of a bad thermostat include an erratic temp gauge and a fault code. When replacing the thermostat, there are three o-rings that will likely need to be replaced between the thermostat and the water pump housing, and two on the coolant tube going to the head. We also recommend new hoses, clamps, and BMW coolant. Replacement should take about one hour.
Note: even though this can be done without replacing the water pump, the job involves removing the same items to access this area. And opening the thermostat housing will spill a lot of coolant. In other words, if you don't replace the water pump at the same time, you're going to repeat this process when the pump needs replacing. We offer a complete water pump overhaul package that covers everything you need if you want to it all at once. You can the thermostat to that package and get everything without any duplicate parts.
Click here for the E46 M3 water pump kit.
On S54 engines (E46 M3, MZ3, Z4 M) there is a flanged head bolt going into the cylinder head, behind the thermostat cover. This holds the left side timing chain guide rail in place and if it's loose or falls out you could have a very serious engine failure to deal with. Make sure to check this bolt while you have the thermostat cover off. You only need to make sure it's tight. But if it's come loose you may want to replace the seal ring and use a small touch of oil-resistant thread sealer.
This item fits the following BMWs:
2000-2001
E46 3 Series
M3 M3 Convertible 2000-2006
2001-2002
Z3 Roadster / Coupe
Z3 M Roadster Z3 M Coupe w S54 Engine
2006-2008
E86 E86 Z4
Z4 M Roadster Z4 M Coupe

Part #: 11531318274-K
In Stock

Free Shipping
on orders $199 and up