BMW E46 M3 Engine Fans & Fan Clutches

BMW cooling fans are one of two types - engine mounted mechanical and full electric (not driven by the engine). As the fan spins it draws air from the front of the car, pulls it through the radiator (where the air cools the water vanes in the radiator), and then directs the airflow over and around the engine. The faster you drive the car, the faster air is being drawn through the radiator. But at idle or in traffic, and especially warm days, the lack of airflow could lead to overheating if your fan is malfunctioning. The fan should always be spinning fast. A fan that barely spins at all is a sign of a failed fan clutch and should be replaced right away. The clutch is mounted in the fan and can be replaced on its own. The actual fan rarely goes bad unless one of the blades is damaged. Electric fans require a complete replacement if it's not working (the motor cannot be replaced separately).

For accurate results, specify your model below.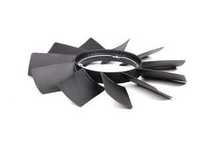 This fan is driven by the serpentine belt, engaged by the fan clutch. If you have bad motor mounts, it's quite common for the blades of this fan to make contact with the radiator or radiator shroud, essentially self-destructing the fan into many peices. Be sure to get a new fan clutch, while you are replacing this.
This fan fits many 6 cylinder BMWs, including the following:
1989-1994 E32 735i/iL
1991-1995 E34 525i, 535i, M5
1992-1999 E36 3 series with 6 cylinder engine (M3, 325, 328, 323)
1997-2002 Z3 2.3, 2.5, 2.8, 3.0, and MZ3 3.2 (S52)
1997-2003 E39 5 series, 525i, 528i, 530i
1999-2000 E46 3 series 323i/Ci, 328i/Ci
2001-2005 E46 3 series WITH AUTOMATIC TRANSMISSION ONLY
2001-2006 E46 M3 (all):
2001-2006 X5 3.0i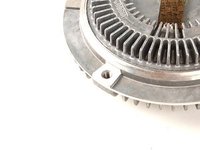 This OEM Hella engine fan clutch fits BMW E46 M3, Z3 M Roadster, M Coupe 2001-2002, E34 535i & M5, and E32 735i 735il. Made to the same or higher standards of quality as the genuine part, ensuring proper fan control and cooling. Failed fan clutches can result in overheating due to the fan not spinning fast enough to deal with excess heat or can cause poor engine performance when a clutch has locked up causing the fan to be fully engaged permanently.
Hella is a premium manufacturer that supplies automotive parts to numerous car brands across the world. Everything from electrical to mechanical genuine parts have been made and supplied directly to BMW before the vehicles ever leave the production floor. Their high quality, long lasting parts have made them a trusted brand chosen to help keep your BMW on the road for many years to come.
As a leading source of high performance BMW parts and accessories since 1993, we at Turner Motorsport are honored to be the go-to supplier for tens of thousands of enthusiasts the world over. With over two decades of parts, service, and racing experience under our belt, we provide only quality performance and replacement parts. All of our performance parts are those we would (and do!) install and run on our own cars, as well as replacement parts that are Genuine BMW or from OEM manufacturers. We only offer parts we know you can trust to perform!

This item fits the following BMWs:
2001-2006 E46 BMW M3
1989-1993 E34 BMW 535i M5
1988-1992 E32 BMW 735i 735il
2001-2002 Z3 BMW M Roadster M Roadster